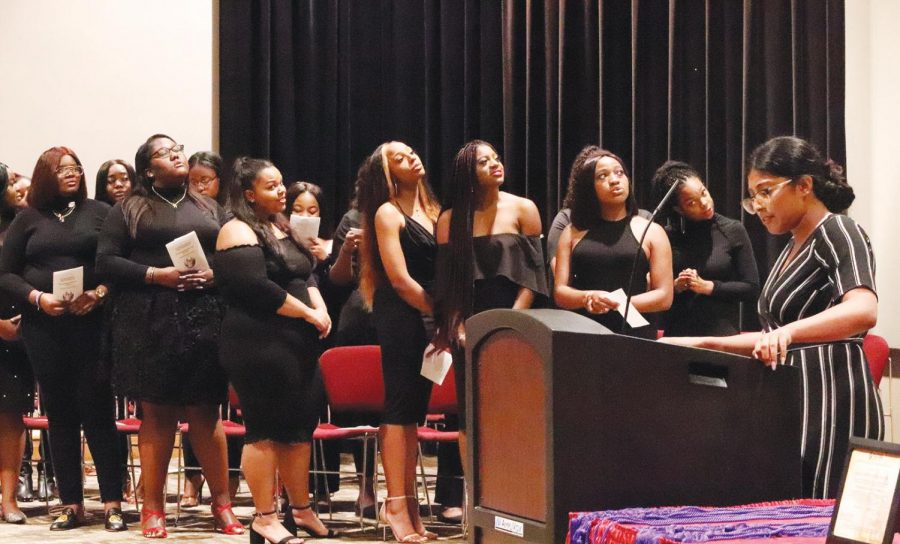 Patrick Halye, The Voice
Twenty-five female Bloomsburg University students were officially named members of The National Council of Negro Women, Bloomsburg section this past Thursday, October 31, at the group's Chartering Ceremony in the Kehr Union Ballroom.
According to the NCNW, their mission is to "lead, advocate for, and empower women of African descent, their families and communities." The NCNW is currently made up of more than three million women and men.
BU professors Dr. Shavonne Shorter and Dr. Melissa Cheese are both advisors of this organization. Dr. Shorter said: "This is all about [the members]; it's their moment to bring such a historical organization to campus."
NCNW President Khalia Walters, a BU senior who was elected in February of 2019, said: "A year ago today, I never would've expected to be a part of this; I love being able to nurture and advocate for these girls."
The officers of this organization include President Khalia Walters, First VP Tai Clark, Second VP Michaela Poulard, Corresponding Secretary Nia Weedon, Recording Secretary Krystal Garcia, Treasurer Juaneeka Sheridan and Parliamentarian Asa Whiters.
BU President Dr. Bashar Hanna had this to say about the organization during his speech at the event: "I have both the honor and privilege of standing here and representing our university. I am both humbled and gratified to see your beautiful faces as you're to be inducted into this chapter."