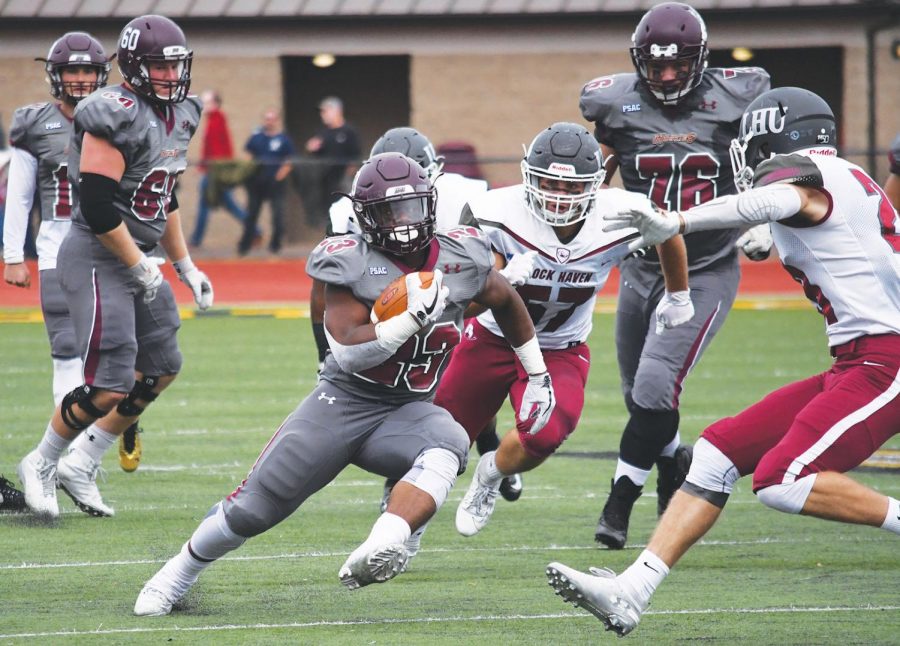 Ed Murphy
For the third consecutive Saturday, the Bloomsburg University football team stood victorious. With a win over fellow Pennsylvania State Athletic Conference (PSAC) rival the Millersville Marauders, the Huskies now move to 4-5 overall on the season and 3-3 in the PSAC Eastern Division.
This victory saw the offensive side come alive again as quarterback Logan Leiby put forth another solid performance, completing 16 of 27 passes totaling 210 yards along with two touchdowns.
Leiby also presented a problem on the ground for the Marauders defense. Scampering for a career high 76 yards plus a touchdown, Leiby led the charge for the Husky offense which totaled 412 yards while possessing the ball for almost 40 out of the total 60 minutes of the game.
Freshman wide receiver Steven Arrington stepped up, totaling a career high 120 yards on six receptions and accounting for one of Leiby's two touchdown passes.
After Arriginton, usual receiving catalyst Michael Allen performed at his typical high level bringing in a team leading eight passes for 85 yards and catching Leiby's other TD pass on the day.
On the ground, the Huskies ran through the Ville with the two-pronged attack of Khalil Nelson rushing for a team high 78 yards on 18 carries and Nyfeast West who contributed 49 yards on 11 rushes.
These are encouraging signs for the Huskies offense as they near the end of their 2019 campaign.
Unable to surpass 300 yards of total offense through the first seven weeks to now totaling over 400 total yards these past two weeks.
On the defensive side of the ball, junior linebacker Aaron Trumino led the charge with eight total tackles and fumble recovery.
Following him, redshirt sophomore Cameron Young contributed six tackles, but not to be out by sophomore Chase Heath and redshirt sophomore Sir Michael Larsen who both provided one sack on the afternoon.
Looking ahead to this coming Saturday, BU will host its second-to-last home game off the 2019 season by hosting new PSAC rival Shepherd University.
Analyzing Shepherd, they've built quite an impressive resume in their inaugural season in the PSAC.
Earning a 7-2 overall record and 5-1 conference record, Shepherd is also riding high on their current five game winning streak.
Following a close 34-27 defeat to current nationally ranked 23rd Kutztown on Sept. 28, the Rams have taken no prisoners. Scoring at least 30 points during this run, including a defeat of West Chester 35-23 who was nationally ranked 12th at the time. As if that wasn't impressive enough, Shepherd is coming off of their largest margin of victory this season when they defeated East Stroudsburg 76-34 this past Saturday.
In order for Bloomsburg to stay in this game, they'll have to prepare for a myriad of playmakers. Offensively, sophomore quarterback Tyson Bagent has completed over 70 percent of his passes, thrown 23 touchdowns to ten picks, amassed 2,935 total passing yards, and averages 366.88 yards per game.
Also, just as the team came off their best game of the season, so did Bagent. Going 24-30 for 284 yards five touchdowns and topped off with 33 yards on the ground.
The rushing attack isn't going to an easy task for the Huskies to defend either. Senior running Deonte Glover has carried the ball well during season for the Rams, especially during this five-game win streak.
Averaging 94 yards per game, and 6.7 yards per carry; Glover has totaled 11 touchdowns this season and like his quarterback also had a season best game with 220 yards and three touchdowns.
On the receiving end, Bloomsburg will have a duo of receivers they'll need to pay close attention too.
Redshirt senior Dylan Brewer and senior Devin Phelps are Bagent's go to targets. Brewer leads the duo in yards, averaging 87 per game while totaling 783 yards total on the season complimented with four touchdowns.
On the flip side with Phelps, he leads the duo in touchdowns with eight, while totaling 644 yards, and averaging 71.56 per game.
Defensively, junior linebacker Chrys Lane easily leads the team in total tackles at 65 with the next closets being basically half of that at 32.
As a team, Shepherd averages 38.78 points per game while giving up 24.89. Shepherd also makes plays during the critical junctures of the game, converting 49% of their third downs and cashing in on 33-37 red zone scoring attempts.
A daunting task clearly awaits our Huskies, but this is the best possible time for BU to play Shepherd since their own a win streak of their own.
Leiby will have to continue to be efficient while leading the offense, and the rushing attack will have to the set the tone for Bloomsburg to keep the game close and edge out a close victory.
Bloomsburg Football will look to increase their winning streak to four games in their second to last Saturday showdown of the season, which kicks off at 2:00 p.m. at Redman Stadium.