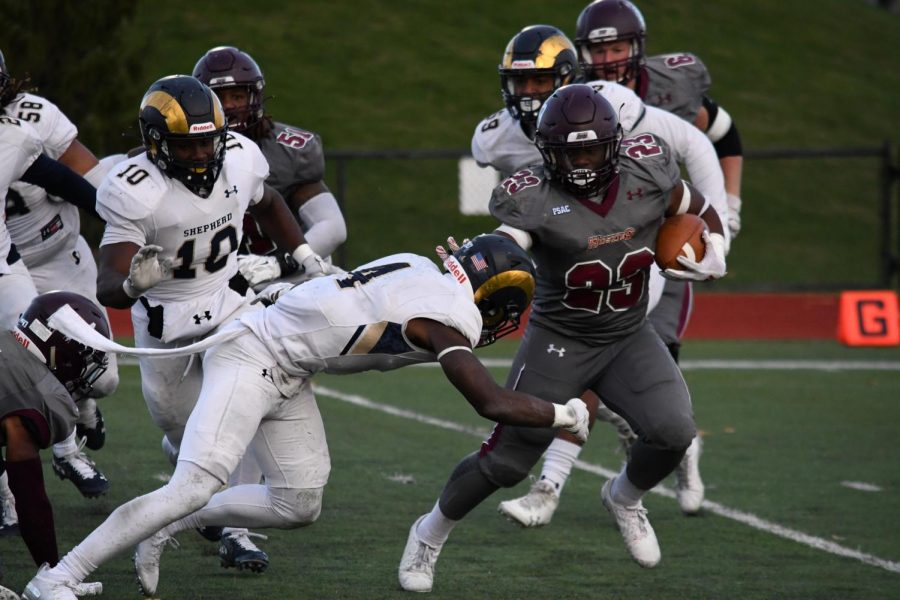 Ed Murphy
The Bloomsburg University football team almost completed the upset of the season this past Saturday when they fell 42-35 to the number fifth team ranked in the region to the Rams of Shepherd.
Sadly, that loss brought the Huskies to a 4-6 overall record and 3-4 in the PSAC. On top of falling two games below .500, that loss marked the end of Bloomsburg's 20 consecutive winning seasons mark.
On offense, BU totaled another solid performance accounting for 298 total yards. Quarterback Logan Leiby contributed 187 of those yards going 16 for 29 with three touchdowns and two interceptions. 
Michael Allen, who's been a standout all season for the Husky offense all season continued his excellent play hauling in eight receptions for 132 yards while also being on the receiving end of two of Leiby's three touchdown passes. 
Allen is having a career year for the Huskies. With one game remaining Allen already has set a new career mark in receiving yards at 810. This current pace places Allen 14th in program history for most receiving yards in a season. 
Other than Allen, running back Nyfease West showed his dual threat ability catching three passes for 29 yards one of which went for a touchdown. West also led the Bloomsburg rushing attack with 54 yards on 11 carries and broke the plain for another touchdown. Khalil Nelson also contributed with a solid performance of 44 yards on 13 carriers.
Jumping to the other side of the line of scrimmage, redshirt sophomore Logan Yohn, Chris Monaco, junior Aaron Trumino, and senior Alex Annan were all over the field tying for a team high eight tackles Saturday afternoon.
Junior defensive linemen Alex Findura had himself a day as well with three tackles, one-and-a- half tackles for a loss, one fumble recovery, one pass breakup, and a blocked extra point. 
Also joining in on the strong defensive effort, redshirt sophomore Cameron Young snagged his third interception on the season, while junior defensive back Khalif Hopkins-Bey and redshirt defensive lineman Sir Michael Larsen both came away with one sack. 
The Huskies mustered all their effort to stay within striking distance throughout a majority of the game. The mental toughness and fortitude of the Huskies can't go unnoticed either. Being shut out in the first quarter while also allowing 14 points, it would've been easy for Bloomsburg to wilt especially considering the caliber of their opponent.
BU shook off their rough start, a trend that has been fairly consistent this season, and stormed back in the second putting up 21 points while allowing seven to bring the game to a 21-point stalemate at half.
Bloomsburg captured the lead after one of Allen's two touchdown receptions midway through the third but became tied again at 28 right at the end of the third quarter. 
Once again, the tie wouldn't last very long, once West crossed the goal line for the second time of the game to once again give the Huskies a touchdown advantage. 
Shepherd didn't look to be trailing for too long as they quickly answered in 1:13 with a touchdown, but they did however remain trailing as that's when Findura busted through the line to block the extra point. 
Although, a three and out from Bloomsburg's offense on their following possession gave the Rams life.  Shepherd's running back, Deonte Glover pushed the rock in from three yards out giving him his fifth score on the afternoon and giving Shepherd a 42-35 lead after they converted the two-point conversion.
The upset bid didn't end their however, because with 2:10 left in the game the offense found themselves on the Shepherd 45.
After a 20-yard pass to Allen on third and 20 and a defensive pass interference call, BU's offense found themselves with first and ten on the Shepherd 15. Unfortunately, Bloomsburg's magic was all used up as the following play Leiby tried to fine his playmaker Allen by the goal line, but his throw was undercut by Shepherd's Donnell Howard to flat line any attempt of a Bloomsburg upset. 
Although in a loss, this game can be looked upon very positively for Huskies as they wine down the 2019 season. Not only losing by one position to Shepherd who's recently been buzz sawing through all of their competition, but to have multiple lead changes and keep the game close throughout the majority is a fact that the Huskies can proudly stick out their chest too. 
To cap of the 2019 season Bloomsburg will host familiar foe Edinboro University. This matchup already had its first go around this season when the game was played at Edinboro. That game saw the Huskies come away with a narrow 24-21 victory thanks to an Allen punt return. 
Hopefully with this game being at home, that'll provide the Huskies with a little extra advantage. Bloomsburg football's 2019 season finale kicks off at noon at Redman Stadium with senior football student-athletes, cheerleaders, and band members being honored pregame.