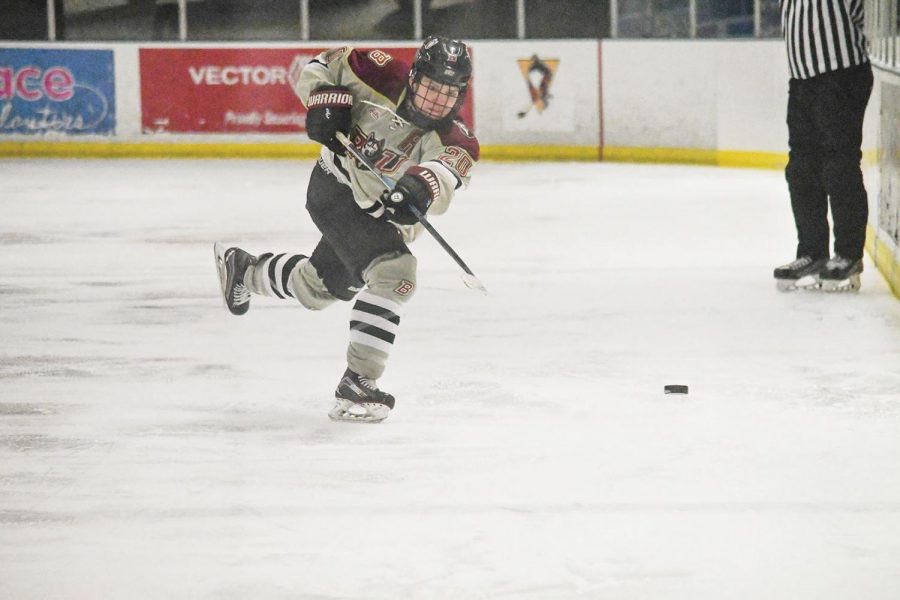 The Bloomsburg University club Ice Hockey team has enjoyed yet another season of play as the Huskies now hold a 14-4 overall record with just three regular season games left to play in the 2019-20 calender year.
The Huskies will travel to the Flyers Skate Zone to face La Salle University this Sunday, February 9 before rounding out regular season play the following weekend against Lafayette and Bucknell. 
Bloomsburg currently sits in third place overall in the division II standings of the Delaware Valley Collegiate Ice Hockey Conference with 16 points, behind just Penn State University Harrisburg (20 points) and rival Kutztown University (18 points).
Both PSU Harrisburg and Kutztown finish their regular season this upcoming weekend.
 The Huskies are led by senior Darren Barder, who leads BU in scoring with nine goals and nine assists in just 13 games played for 18 total points on the year. Junior Lucas Styles sits just behind him with eight goals and seven assists good for 15 total points. 
In goal, junior Steven Krolian has played 14 total games thus far this season and boasts an 11-3 overall record with a .715 save percentage. 
Bloomsburg has had previous success against La Salle earlier this season as the Huskies defeated the Explorers by a score aof 4-1 back on October 5 at the Toyota SportsPlex in Wilkes-Barre, Pa.
Barder got things started for the Huskies in the first period before senior Cole Becker and freshman Ryan Winters each tallied goals in the second. 
Senior Ryan Thomas then scored shorthandedly in the third while the Huskies cruised for their sixth consecutive win to start the season.
La Salle currently holds a 6-7-1 overall record and sits in a tie for fourth place with Lafayette in the division II standings with 12 total conference points. 
The Explorers are led by Tim Cordero who leads the team with a whopping 18 goals and 13 assists for 31 total points on the year.
Bloomsburg will then look ahead to the following weekend, February 15-16, when it faces Lafayette on Saturday and Bucknell on Sunday to close out the season. 
The club ice hockey team will hold its annual senior night on February 15 before it plays Lafayette at Toyota SportsPlex in Wilkes Barre. Puck drop is set for 4:00 p.m
"Winning these last three games could give us a first-round bye, which would be huge." Senior captain Cole Becker said, "But right now, we are focused on La Salle and are going to take these last three one game at a time."
Three wins over the last three games could catapult the Huskies into second or even first place in the standings, being the last three opponents are all alongside Bloomsburg in division II. 
A few wins for Bloomsburg club Ice Hockey in the next two weekends would be a big way to head into postseason play.