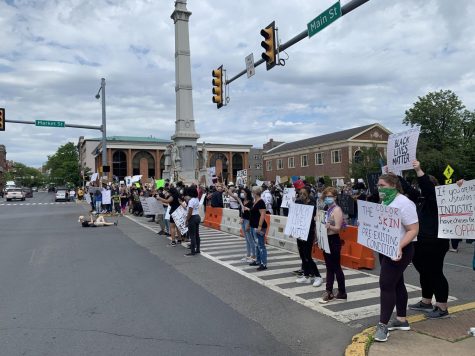 On June 3rd, hundreds of protestors gathered at the intersection of Main Street and Market Street to peacefully protest the murder of George Floyd. Floyd was killed on May 25th, after being forcefully restrained by police officer Derek Chauvin. Upon the accusation of using a counterfeit $20 bill, Floyd was handcuffed and pushed to the ground, with Chauvin's knee pressing into his neck. Minutes later, after repeatedly proclaiming, "I can't breathe", Floyd died of asphyxiation. His death has sparked protests not only in all 50 states, but in many countries around the world. 
Even though we may be a small town in rural Pennsylvania, our actions and words still have impact. The protest held here lasted five hours and was met with cheers, raised fists, and the plethora of horns honking. Compared to the protestors, the number of counter protestors was almost none. 
So why are we protesting? Especially in a town like Bloomsburg? Well, to start, racist police are closer than Minneapolis. Just last year, Tyler Evans, a 19-year old African-American Briar-Creek area man, died in police custody after being placed in a restraint chair for 22 hours. Police apparently made fun of the young man upon restraint, calling him a "retard". Tyler was autistic and had suicidal tendencies, something that the police took as a joke. Tyler's death was ruled accidental although it was entirely preventable and occurred due to police negligence and their lack of empathy. His grandmother, Judy Evans, has filed a case that is still ongoing. 
These things don't just happen in big cities that we view on our phone screen. These things are happening right HERE. These preventable deaths due to police negligence and brutality are why we protest. Now, as a white woman, I stand as an ally to this movement. I spread information to help the movement, but I do not speak for it. I will never understand what it's like to be a black individual in this country. But even though I can never understand, I can stand with them, united. 
These protests are happening because this country needs to be changed for the better. Trump promised a better America, so where exactly is it? Unarmed black people are being murdered in their beds while they sleep. They're being murdered for simple accusations. They're being murdered for things that would earn a white person a slap on the wrist. That doesn't sound like a better America to me. It sounds like a biased, racist country that favors the white over the black. And that's because that is exactly what it is. 
George Floyd's last words were, "I can't breathe". Breonna Taylor was shot at least eight times in her home, because police raided the wrong address. Ahmaud Arbery was going for a run when two white supremacists followed and shot him. Philando Castille was pulled over and whilst reaching for his registration he was shot five times. His four year old daughter and girlfriend were both present in the vehicle. This is just a tiny fraction of the names of black people who have been murdered by the police. Murdered by the people who are paid to keep them safe. 
This is why people are protesting. To gain justice for those who can't fight for it anymore.