The Young Voter Voices Project
Voters share their opinions about America and its future.
Editors Note: Students in John-Erik Koslosky's journalism workshop class interviewed nearly 30 first-time voters from diverse backgrounds. The members "undertook this project with the idea that citizens-not politicians or pundits- should determine what ends up on the agenda of our elected bodies in the months and years to come." The interviewers included Maeve Corrigan, Montana Farner, Mirlie LaRose, Ryan O'Brien, Molly Nesselrodt, Matthew Philip, Matthew Poust, Griffin Rissinger, Gretchen Stenger, and Shana Wetzel. Below is a summary of their experiences. 
INTRODUCTION:
In August, we set out on a mission to learn what matters to young voters with the Young Voters Project. Instead of covering who is winning or losing the presidential race, we wanted to focus our attention on the American people and young people specifically. We set out to learn what issues these voters value and what they would like to see improved in the future for the country.
Throughout many discussions/conversations, there were some commonalities amongst the volunteers on what young people find necessary. Some of the more prevalent issues and kept coming up include police reform, problems with the 2-party system, immigration policy, and the government's necessities to protect its citizens vs. limiting the government's control. We also tried to gauge if the participants felt optimistic or pessimistic about the future of our country.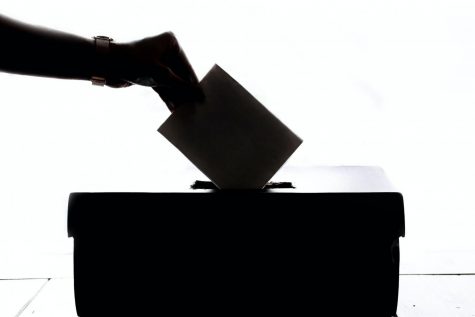 The young voter tended to agree more often than not. We strived to have the participants bring up the issues independently, and most times, when a problem arose, the others would generally agree and add on. We also looked at the participants' upbringing and background and how this affected their political opinions. Though there were many backgrounds, the young voters still shared a similar view on most topics brought up. The voter's views on the most commonly brought up issues tended to be more progressive.
In 2016, 61.4% of the voting-age population reported voting in the election.
Young Americans (18-29) are historically the worst age group to turn out for presidential elections. In 2016, there was just a 46% turnout compared to the (65+) age group, which reported a 70% turnout.
However, young adults' interest in the 2020 election is at high levels, according to Gallup.com. Four out of five young people (18-29) say the coronavirus has helped them realize how much politics affects their everyday lives.
WHO WE SPOKE WITH:
The members of the workshop were able to meet with 26 students through five different discussion groups. An email was sent to the student body at Bloomsburg University detailing the YVVP and outlining how the discussions would occur. Interested parties to contact one student from the workshop. Students were also recruited through the campus learning communities and particular classes that offered incentives. Then they obtained a Google Form to fill out detailing what days and times they were available to meet.
We held several Zoom Meetings over a few weeks to have a conversation with 4-6 students at a time. The Zooms would last about an hour, and about three students from the class would ask the participants broad questions to see what topics they wanted to discuss. The participants were passionate about several issues due to the areas they grew up in and the things they have experienced during their lives.
The participants' backgrounds were varied, but all are students at Bloomsburg University. Upringings generally ranged in middle-class families. Many mentioned how their parent's political views influenced their own. Several live/lived in predominantly white areas, and few participants stated that they lived in diverse areas. One participant is a DACA recipient and an immigrant; another is an immigrant from the Dominican Republic.
THEMES:
One significant theme that emerged from the discussions was the agreement that the two-party system is harmful to democracy. There was an emphasis on the country feeling divided or split between Democrats and Republicans. Some participants stated the opinion that the government cannot continue in this way much longer. One mentioned that the current system is not designed well and will not lead to any successful results.
Another popular theme shared in the group discussions was the belief that there are several issues with the U.S. immigration system. Multiple participants mentioned problems with the immigration process for immigrants entering the United States, saying that our system has too much control over immigrants. Others also believed that the United States levies too much blame on immigrants and that the United States system is often abusive.
Three of our participants for this project come from immigrant families, with two of them making the immigration transition in their lifetimes. Each participant explained there is too much discrimination in this country, and immigrants need to receive better treatment. One expressed that our country may need a different president to represent that message and that everyone who can vote should vote, for those who don't have a voice.
Another common theme among the young voters on America's future generally swayed in the direction of pessimism. With the democratic and republican parties being so separated, it is hard to be optimistic about the future if this issue doesn't get resolved. The current system used in America is not designed to prosper. Both parties are too busy working on their agendas rather than focusing on society's list. One young voter said, "The future of America lays directly in the hands of the next election. If Trump wins, we will continue to go down a spiral we are already on. But if Biden wins, he may be able to dig the country out of the spiral it's already in."
The last prominent theme that the young voters spoke about is limited government vs. the government's need to protect the environment. Many young voters mentioned their belief in how the people collectively rely too much on the government. They also noted that even though that's the case, the government does not look out for us. One young voter said, "The government cares more about saving big corporations than it does about taking care of its people." They believe that for the amount of power the government has over us, there is a lack of empathy.
While the participants do not want the government to control us, they also desire the government to address the environment's current condition. The young voters believe that environmental issues such as global warming should be taken more seriously by the government. A lot of officials, including the President, do not believe that global warming is real. One voter mentioned a video that she watched of Donald Trump talk about global warming and how he did not think it was an issue. This video raised concern for her.
The young voters' overall opinion is that it's hard to have long-term optimism in a country filled with short-term pessimism. The younger generation seems to be more forward-thinking and eager to fill the leader's shoes right now. But until then, young voters seem to lean to a more pessimistic view regarding America's future in the upcoming years.
CONCLUSION:
Through the plethora of meetings and interviews conducted, these young voters voiced specific issues that hold importance to each of them. Many of these young voters' opinions are issues they believe the media should be covering during this presidential election and forward.
Some of the most important issues students would like to be dealt with more regularly often deal with reform to the democratic system as a whole. They would also like to see the reform of our prison system and our immigration system. Another major issue the media should highlight based on student responses is police brutality and racial injustice. Another matter related to the latter that should see coverage according to young voters is firearm reform. Students also often voiced an issue with the two-party system as they often called it. It seems these young voters would like to see more coverage of less Republican and Democratic candidates.
Although interviewees held diverse backgrounds and different upbringings, they often found common ground. The voters themselves have passionate opinions ranging from left to right, but what makes their ideas so strong is their desire to see media cover the political landscape in a fair, unbiased, and factual way. These issues will not go away after the election, so these issues play a big part in the election this year. If these issues persist, they will continue to affect America.