This past week, student playwrights and performers from the Theatre and Creative Writing programs at Bloomsburg University launched a virtual performance festival of six original plays, altogether titled "The Screen Plays". Each play took place in a digital environment and was performed over the course of two nights on the digital stage.
"The truthful circumstances of their environment make it necessary that the characters must meet by way of digital screens," said David Miller, Associate Professor of Theatre at Bloomsburg University.
            "Series A" premiered on Wednesday, Nov. 11, and featured performances of The First Date Conundrum by Kirsten Hamilton – a junior Theatre Arts major with an Integrated emphasis –, Gummy Bear Shots by Kali Morgia – a senior Theatre major with an emphasis on Performance –, and The Spy-nanigans of Holden Hunt and Jace Jones: The Past's a Spy-rus by Samantha Corcos – a junior Creative Writing major with a Theatre Arts minor.
            "Series B" premiered on Thursday, Nov. 12, and featured three additional plays titled Post-Audition by Brian Bond – a sophomore Theatre Arts major and Music minor –, The Proposition by Sebastion Logosso – a junior Creative Writing major –, and The Wright Solution by Alexis Mucci – a senior English major with a Creative Writing emphasis and an American Sign Language minor.
         Conversations with the playwrights, directors, dramaturgs, and designers of each of the plays took place on Friday, Nov. 13. This gave viewers the unique opportunity to learn more about each play and their given playwrights.
            For those who missed the premieres, but are still interested in watching, links to "Series A", "Series B", and the "Conversation Series" can be found at bit.ly/the-screen-plays.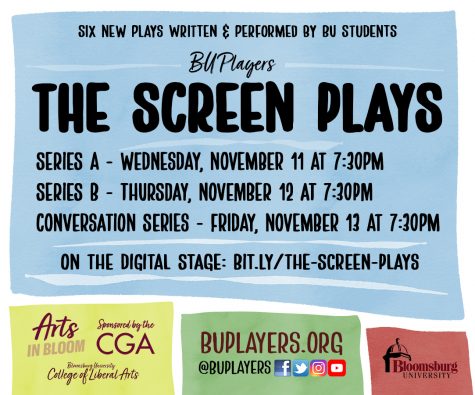 Please note that "The Screen Plays" includes mature content and adult language.