Design the New Voice Logo!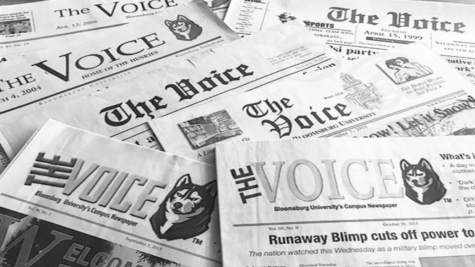 The Voice Logo Competition: 
Calling all artists and graphic designers, we want you to create The Voice's new logo! The Voice is looking for a new logo that will better identify the student-run news organization. The logo will be used in print editions of the paper, our website, social media platforms and anywhere else the staff sees fit. Below describes the official requirements and rules of the competition. 
Eligibility
The contest is open to Bloomsburg University students only. Contestants are permitted to work in groups; however, only one (1) prize will be awarded regardless of group size.
Submission Guidelines: 
The contest is open from September 27, 2022 and closes at 11:59 p.m. on November 1, 2022. Late submissions will not be considered. The Voice staff will review all submissions and will vote on a winner. Entries may also be posted on social media in a poll format, to give our readers a chance to vote on a winner.
All entries must be submitted to The Voice email:  [email protected]
Submissions must include the full name(s) and emails of the person(s) who designed the logo.  
The winner will receive a gift card or Husky Gold. The amount is still being determined.
Logo Design Guidelines: 
Our Mission: Since 1924, Bloomsburg University's award-winning student newspaper The Voice has sought to inform the campus community about local and national events and issues pertinent to their everyday lives. We are dedicated to bringing you the very best in news, sports, features, entertainment, and opinions authored by some of the best writers Bloomsburg has to offer.
In 2024, The Voice will celebrate our 100 year anniversary. We would love for our new logo to pay homage to our newspaper's history, while adding a modern twist.
Dimensions for Print Newspaper: 11 x 4 inches 
Dimensions for the online website: .png in 4:1 ratio (1200px-300px). If possible, please submit the vector file as well.
If you have any questions, please contact:
Anna Watson, Editor-In-Chief: [email protected]
Gage Dabulis, Page Designer: [email protected]