Black culture empowers BloomU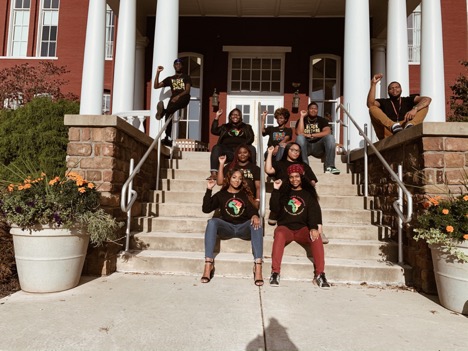 Bloomsburg University has a variety of many different clubs, organizations, Fraternities, and Sororities. There are enough clubs for any student to be involved in. One of the many organizations that involves everyone of different cultures and backgrounds is the Black Cultural Society. Black Cultural Society hosts their meetings every Wednesday at 8:30pm. 
The Black Cultural Society (BCS) is an organization dedicated to the African/ African American students at Bloomsburg University. The organization started in the 1970s. Was once called the "Third World Cultural Society." It wasn't till 1984 the Black Cultural Society was born. The Black Cultural Society welcomes each and every one of a different background. 
Within this organization, before starting any meeting, the organization likes to open up with an ice breaker. These ice breakers are games to help include everyone. They can be playful roast battles, paired off in groups of getting to know one another. In each meeting there's a different ice breaker. The organization allows everyone to speak their minds about the topics they hold each week. These topics pertain to the conversation of comedians taking jokes too far, Zodiac signs, various other topics. At the end of every BCS meeting a person representing other organizations or Sororities and Fraternities that are catered to Black students let's others know about what upcoming events that organization is holding. 
I recently sat down with the Black Cultural Society. To find out what the organization means to leaders of this organization. Trying to articulate what it means to be a part of this successful organization such as the Black Cultural Society.
What does the Black Cultural Society mean to you as a group?
"The Black Cultural Society does not mean it's just only for just black students. There is no exclusivity when it comes to our organization. We talk about topics that anybody can comment on. We don't just always talk about what is happening in the Black community. The organization although is for our black students who attend Bloomsburg University. We want everyone of a different background to show up. It's a safe space for a black student to speak their mind and feel comfortable. While we all may share different opinions, that is completely fine. We ask that you show up with a positive energy and most importantly  have fun." 
Why do you think an organization such as Black Cultural Society or any organization catered to African/ African American students is important at Predominantly White Institutions?
"African American and African Students are not seen as often when attending a PWI. It's important for a student who is black to have someone who looks like them and has a voice. Representation is important to have when you are needing guidance or a mentor from someone who not only looks like you but has already been through the ropes. To find someone who looks like you give you reassurance or a guide when you feel confused, or doubtful about anything. 
Now that most of BCS's leaders are graduating from Bloomsburg what do you guys hope to see in the future for the Black Cultural Society?
"We hope to be universally known. Not just to be known by the Multi- Cultural Center but to be known around different states. There are Black students who are coming from New York, to New Jersey, to Philly, and different parts of Pennsylvania. It would be wonderful that they knew about our organization especially when they don't know anyone on campus yet and are looking for a safe space to come speak their mind or just to make friends.
 For the future we hope to see the Black Cultural Society continue to be a great organization for everyone to enjoy.