Young people should still get the shot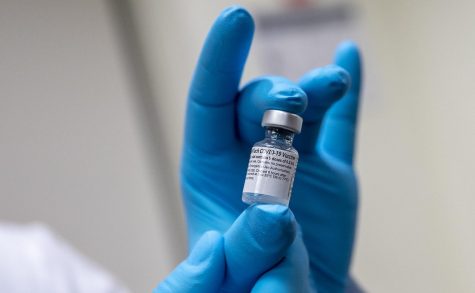 We all know that the COVID-19 pandemic isn't going to end by magic. Many of us are tired of staying home all the time, missing out on vacations and gatherings with friends, and using hand sanitizer every ten minutes.
As a result, quite a few people have begun to just kind of…well, act however they want. They aren't as diligent about mask wearing or social distancing. As someone who works with the public, I find this alarming, but I can't make any of you listen to the guidance from the CDC or Department of Health.
Now, with Governor Wolf's new timeline for vaccinations, those of us who thought we'd have to wait until June or July to get vaccinated are able to get one within the next month.
As a grocery store worker, I'm now eligible to get the vaccine — so I took the chance and got my shot, despite knowing the possible side effects that could occur and the fact that these vaccines are quite new.
By mid-April, pretty much everyone over the age of sixteen will be eligible for the vaccine, yet I'm concerned many young people won't get it.
Why? Well, for starters, people who have anxiety disorders (like me) might be concerned about how severe the side effects could become.
But even more so than that, I think people in their late teens and early twenties believe that they'll be fine if they contract COVID-19. "My friend had it and it was just like a bad cold," they claim. "I'll be fine."
Will you? There's no guarantee. Every single person you know who got the virus may have come out okay on the other side, but why take that risk?
Get the shot. The side effects are a mere nuisance compared to, say, having to quarantine yourself for two weeks, taking a trip to the hospital, or accidentally getting someone else ill.
Now that our governor has sped up the vaccination timeline, take the time to book an appointment. Two weeks after your last dose (depending upon which vaccine you get), you will have protection from this virus.
And the more of us who are vaccinated, the faster it will be until we can get back to hanging out with whoever we want to hang out with, ultimately knowing that since we are protected, we're exponentially less likely to bring the virus home to someone else.
If you're worried about the vaccines, stay worried. That's okay. Embrace that concern, but get it anyway.