Sushi Rolls into Campus
Bento Sushi Replaces Steak n' Shake in Scranton Commons lower level.
BLOOMSBURG- Bento Sushi has replaced Steak 'n Shake in the bottom of the Scranton Commons building. The establishment has made to order sushi, and grab & go options.  Students are able to use their flex to make purchases.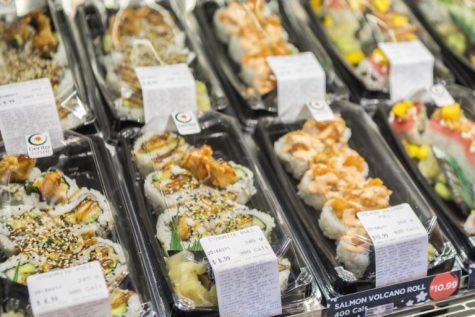 Students can also place mobile orders using the Transact mobile app. When going to the Bento Sushi in person, purchases can be made in a form of self-checkout. 
 Vannol Sang, an employee at Bento said, "Bento Sushi is something that all students should check out because it has good, fresh ingredients." Sang also mentioned that Bento Sushi follows all food and safety procedures. "It is just awesome how things are going in the first week," Sang mentioned. 
 The student response to Steak 'n Shake being replaced by Bento Sushi is mixed. 
 One student who only identified herself as "Ashlee" said that she didn't really mind the change as she didn't really go to Steak 'n Shake all that often, and when she tried the sushi, it was pretty good. 
 Student Rachel Warden also agreed that Bento Sushi is a nice change because she prefers sushi and believes it to be a healthier option.
 Both Lauren Hoffman and Maddy Fueshko mentioned that they were sad that Steak 'n Shake was gone because they don't like sushi. 
 In addition, Aaron Rudolph was sad about the change simply because the prices aren't comparable to Steak 'n Shake.
 Individuals like Caitlyn Mihalik found the change sad but are willing to give the sushi a try. 
 There are also students like Vincent Torres that are indifferent about the replacement as they didn't really enjoy either establishment.
 Bento Sushi is open 10:30-8:00 PM on Mondays through Thursdays, 10:30-3:30 PM Friday, Closed on Saturdays and 4:00-8:00 PM on Sundays.