Saxton In Action Throughout BU Basketball Career
The Huskies were on the road, facing Pitt-Johnstown on Saturday, November 20, 2021. The game was close, as the Huskies trailed the Mountain Cats 33-23, in the 3rd quarter. Bloomsburg desperately needed to get some points on the board, if they wanted to stay in the game.
Following a Pitt free throw, graduate student Emma Saxton (York, PA) was given the ball. The guard hustled across the court, bringing the ball back into Bloomsburg's offensive zone. Even with three defenders on her, Saxton successfully made her layup, as the Huskies bench roared with excitement. Saxton had just scored her 1,000th point of her career.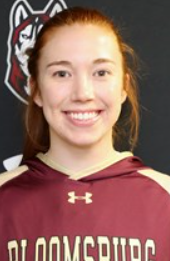 When asked about what it meant to achieve this honor, Saxton expressed, "It means a lot. That wasn't my intention and goal coming in, I just wanted to have a good experience. It was really rewarding and made me feel like I did something and made me proud of myself."
From a young age, Saxton was introduced to basketball and played on a YMCA team with her older brother. Little did she know that years down the line, this would come full circle, playing Division II basketball at Bloomsburg University.
Saxton's initial interest in basketball sparked from her dad, as he played basketball in high school and college. "We actually have three basketball hoops in our driveway, we're like a basketball obsessed family. And I just loved playing basketball and enjoy it so much, so I just kept at it."
Emma's older brother Sam Saxton introduced her to Bloomsburg, as he played for the men's team from 2016-2020. In his career, Sam scored 693 points, had 153 assists, 86 three-pointers, and 101 free throws. The 6-3 guard graduated from Bloomsburg with his M.B.A. in Business Administration, in 2020.
Bloomsburg was the perfect fit for Emma as well, as she began her collegiate career in 2017. Throughout her career, Saxton has over 3,600 minutes, scored 1,326 points, 334 assists, 312 defensive stops, and 27 blocked shots.
Emma reflected on how playing basketball with her brother Sam, affected their relationship. "We were already close but being able to play together brought us together even more. After games we'd go to McDonald's sometimes and get McFlurries late at night. I just loved watching him play because he was such a good role model. We would go up and shoot together so he was just a really good friend, coach, and brother to have."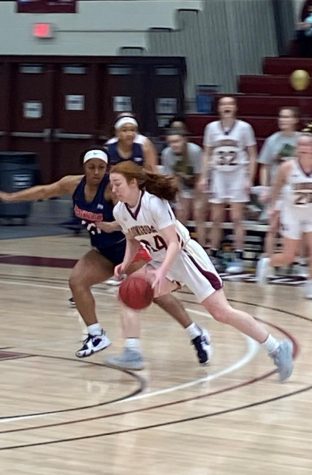 Saxton has also received the PSAC Scholar Athlete award in the 2017-2019 and 2020-2021 seasons. Additionally, she achieved the D2 ADA Scholar Athlete honor in 2018-2019. Following their game on February 23rd, Saxton moved into ninth all-time in scoring at Bloomsburg and needs just one point to tie eighth and two to take over the eighth spot, occupied by Kayla Oxenrider (2009-13).
This season the Huskies have anchored their defense and have worked together to improve upon this skill. Emma commented on this saying, "Our coaches from day one told us that if you don't play defense you won't play. So, defense every single day is our number one priority. I also think that our team chemistry also helps us on defense because if your girl beats you, you're hoping and trusting that your teammate will step up and help you."
Bloomsburg celebrated senior day in a pre-game ceremony on February 19th. Saxton was honored in addition to senior Meghan Corridoni. The team has performed well this season, with a record of 18-10. Not only has the team's chemistry been an asset on the court, but off the court as well.
Emma exclaimed, "Our whole team is really close, we hang out together, go out to eat together, and over winter break all the students go home, but we're still here because that's like our main season. So, we're with each other all the time, and we also live together."
Although Saxton has accomplished an outstanding career at Bloomsburg, she also underwent a difficult stretch of time during her junior year. The guard spoke of how she overcame this setback saying, "During my junior year I was going through a little bit of a slump, and nothing was going my way. We had two other girls in my class who were going through the same slump at the same time. We just stuck together and trusted the process and eventually we got over the hump."
Overall, Saxton has flourished at Bloomsburg as a student athlete. She earned her master's degree in Instructional Design and Technology in 2021 and is in pursuit of her degree in Mid-Level Language Arts.
Looking ahead, Saxton commented on her plans after she graduates, stating, "I have an internship to do once basketball ends. And then I have one more class to take in the fall, so I'll graduate in December. Right now, I'm applying to teaching jobs, back where I'm from in York. I'm hoping to get a teaching job and live at home for a little bit."
The Bloomsburg women's basketball team will begin its playoff run this Wednesday, March 2nd at 6 P.M. at Nelson Field House, in the PSAC Quarterfinals. The Huskies must be on their A-game if they would like to advance to the Semifinals next Saturday, March 5th.
When asked about how basketball has shaped her into the person that she is today, Saxton reflected, "It's definitely helped me with character. My coach also emphasizes, it's how you act like on and off the court, and how you represent Bloomsburg and the team… It's also taught me to be a leader, which is going to help me in the classroom as a teacher."