Field Hockey Captains Raise Awareness for Student Athlete Mental Health
The score was tied 2-2, when the overtime clock ticked down to zero. It was time for a do-or-die shootout. The goalkeeper nervously made her way to the net, who ultimately held the fate of her team in her stick. The quarterback anticipates the snap of the ball, as his team rests in first and goal, behind by three, and only five seconds left in the fourth quarter. It's the bottom of the ninth, with runners on the corners, in the semi-final matchup vs. the league rival team; as the closer tries to gain the save and send his team to the championship series.
These are the highly pressurized situations collegiate athletes face day in and day out. Of course, being a student athlete is a privilege, and to many a dream; however, what is often looked past, are the immense challenges these individuals face in the process.
Athletes for Hope is a non-profit that aims to educate, encourage, and assist athletes as they strive to engage with community and charitable causes.  According to their website, "33% of all college students experience serious symptoms of depression, anxiety or other mental health conditions." Among student athletes with mental illnesses, "only 10% seek help."
Bloomsburg University Field Hockey captains Abby Shaffer, Meghan Longenhagen and Carlee Williams, all speak out about how important mental health is while being female collegiate athletes.
Abby Shaffer (Harrisburg, PA) is a junior goalkeeper for the Bloomsburg Field Hockey team. In fall 2021, she earned the PSAC Field Hockey Defensive Player of the week two weeks in a row.
Meghan Longenhagen (Catawissa, PA) is a junior forward for the Huskies.  She was named a PSAC scholar athlete for the 2020-2021 season.
Carlee Williams (Harrisburg, PA) is a junior forward/ midfielder for the B.U. Women's Field Hockey Team. Williams has numerous honors, including ​​2x NFHCA Scholar of Distinction, 2x NFHCA National Academic Squad, 2x PSAC Scholar-Athlete, and DII ADA Scholar Athlete for the 2020-2021 season.
These three captains all showcase great leadership skills and are motivated to lead the team both physically and mentally.
Shaffer is very passionate about destigmatizing mental health, especially in student athletes. She emphasized, "The field hockey team I think is very supportive of each other's mental health, whether you are an athlete or not. For example, anyone who follows me on Instagram knows I constantly put mental health posts on my story… Sometimes it doesn't necessarily apply to us, but it might help someone else…I honestly think the tragic passing of Katie Meyer brought a lot of attention to our eyes… I think we all know how although it is a very tragic situation, it is also a very realistic situation that could happen to anyone. We know how hard it is to be a student athlete and the pressure it holds."
Katie Meyer was Stanford University' soccer goalkeeper, who tragically passed away on Thursday, March 3rd, of suicide. In 2019, her fierce competitiveness led Stanford to win its third NCAA soccer championship. This tragedy definitely shows that colleges across the nation must take initiative for checking on their athletes' mental wellness regularly.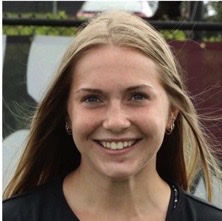 Meghan Longenhagen is a very driven student and claims, "balancing being a student athlete is one of the most difficult yet rewarding things I have ever done. It can be very difficult at times but learning to manage your time helps tremendously. I definitely take advantage of the days that I have more free time to get those assignments done as well as spend time with my friends and family."
Coping mechanisms are highly significant to maintaining a healthy mind, such as exercising, reading, napping, playing an instrument, journaling, and many others.
When asked how she prioritizes her mental health while still being an athlete, Longenhagen stated, "Being a student athlete has impacted my mental health in both ways. Overall, it taught me how to turn my stress into a sort of motivation. The increased responsibilities definitely can take a toll, but when handled correctly the results are rewarding. Decompressing on our days off plays a huge role in my mental health. I like to relax and focus on myself. Whether that be a movie day, long hot shower, or even cooking dinner."
Williams also spoke in a similar light, emphasizing that balancing athletics and studies are not the easiest tasks to accomplish.
"I balance being a student athlete simply by taking it one day at a time… I take advantage of my free time by attending to my studies but making sure that no matter what, I allow myself to get a proper amount of sleep each night so that I do not wear myself out. Having good time management is the biggest asset to being a student athlete and once you figure out what works for you, it makes life so much easier. I also allow myself time throughout the week to do things I enjoy even if it's as simple as watching a T.V show with my roommates," said the forward.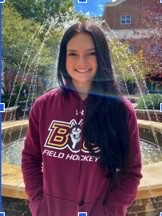 Abby Shaffer has faced multiple pressures which field hockey has triggered from a young age, which have taken a toll on her mentally. She opened up about her personal struggles with severe depression/anxiety.
The Huskies goalkeeper goes out of her way to raise awareness for promoting awareness for mental health on her social media. This is very admirable, as social media tends to be a dark place for thousands of individuals. In the future, it is important to spread kindness online, and remember that we never know what another person is going through.
She opened up about this saying, "When I first started playing in middle school, field hockey led me to develop an eating disorder to cause me to lose thirty pounds in a month and forced me to seek professional help for my mental health that I still utilize today. The constant struggle of feeling like you're letting everyone down and that you're not enough, eats at you a lot… Don't get me wrong though, I love the game and my teammates. I've made great friends over the years, like Carlee Williams. I've known her since I was five and I would do anything for her, and she would do anything for me. She's a lifelong friend. I'm very grateful I met and get the chance to play field hockey with her and live with her."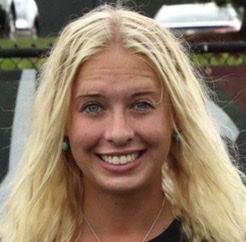 Williams also spoke out about how mental health differs per person. "Being a student athlete definitely impacts mental health. There are positives and negatives, for sure. There have been days that I question if it's worth it to be a student athlete and there are days when I would not trade it for the world. In the end, there are definitely ups and downs mentally… and I think that's something that should be talked about more. It's normal to mentally struggle with playing a sport, and I think some people only think of it as being physically tough, but it can be mentally tough as well. Personally, for me whenever I am not in the best mindset with my sport, I remember all of the hard work and time I have put into my sport and the reason I am proud to be a student athlete."
At the end of the day, student athletes are still just people who struggle. It is okay to ask for help. Reach out to a friend, a teammate, a medical provider or family. In the words of Shaffer, "We also know that we're a family and we have each other's back, no matter if it's a bad practice, you got a bad test grade, relationship problems, family problems, or anything. We are always there for each other."