Number Ten in The Sky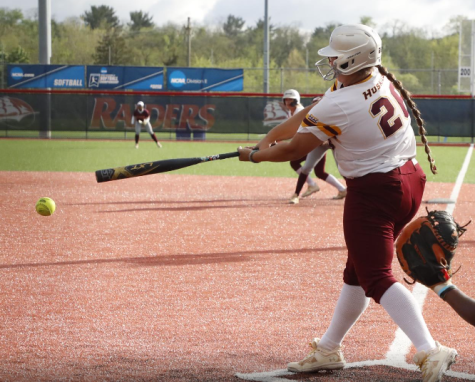 With a dime in her back right pocket, Nicolette Ray draws the number ten in the dirt before stepping up into the batter's box. She taps her pocket feeling the small but mighty dime before looking down the third-base line to her coach. The pitch comes in and she slams it out of the park.
Nicolette Ray grew up with a glove on her hand and cleats on her feet. Her dad, Bobby Ray, was the driving force behind her love for softball. Bobby excelled in his position at shortstop when he played and wore the number 10 on his back. He coached her growing up and shaped her into the home-run hitter she is.
In May of 2018 however, Nicolette's dad began getting sick. He was in and out of the hospital undergoing multiple tests. By the time June rolled around, things began to go downhill. He was put in a nursing home and unable to go to Nicolette's games. Nicolette and her mom were constantly at his side keeping him company and making him as comfortable as possible. There were days when Nicolette would spend over eight hours by her dad's side. The diagnosis came heavy: Bobby had dementia.
Less than a year after his diagnosis, after months of fighting, Bobby Ray passed away holding both his wife and his daughter's hand on April 15, 2019. In the blink of an eye, Nicolette's coach, dad, and inspiration was gone.
The passing of Nicolette's dad weighed heavy. Even now, there are days when she will sit and cry because she knows she will never get to talk, hug, or have a catch with her dad again. While the loss is a pain that will forever be a part of her, she found a way to keep her dad close.
She got a tattoo that reads, "Love you forever -Dad." The tattoo is in his handwriting, making it even more special. Nicolette also got a Siberian Husky after her dad's passing and named her Skye Blue.  Skye Blue was a constant reminder of the happiness that her dad once brought her.
"Even though no one would ever be able to replace my dad, Skye Blue found a way to constantly bring a smile to my face when I was down," Nicolette said about her emotional-support dog.
Nicolette's love for softball came directly from her dad. When she first stepped foot on the field, her dad was right there with her. Since his passing, Nicolette reflected on the positive impacts that losing him brought to her game.
"The first few weeks that I stepped foot on the field, I would think about the old times when my dad and I used to have catches, or he would catch for me while I pitched. But in the end, I knew my dad did not want me to grieve over his passing. My dad would want me to play my heart out for him every second I am on that field," Nicolette said.
After the loss of her dad, Nicolette found dimes everywhere. She found them around her house, in the dugout, and even on the field. She knew it was a sign that her dad was with her. Now, she carries a dime in her back pocket during games to keep her dad close and to honor the number 10 that he once wore on his back. She'll then trace his number in the dirt in honor of him.
Nicolette has shown a tremendous amount of courage in her life. After losing one of the most important people to her, she trudged on and became the person and player that her father wanted her to be.
"Even though he is not physically watching, I know he is up there watching every practice and game, and cheering me on," she said. "My dad shaped me into the person I am today, and I will be forever thankful for that."