The Rise of Anime and Manga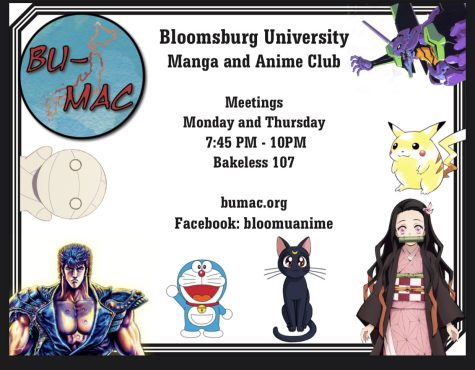 An area of culture that has been on the rise for almost the last 20 years is Anime and Manga. Anime is a cartoon with Japanese roots that features character designs that emphasize the characters' big eyes, wild hair, and distinct features or powers. Dramatic surroundings, various art styles, and original stories that stir the viewer's emotions are all common elements of anime/manga.  
Many doubters may think that anime is explicit and sexist before watching it, or in another less popular genre, Hentai. The abundance of subgenres, however, appeals to fans of slow-burn romances, violent combat, psychological thrillers, and even comedies. 
Many people have grown up watching shows like Naruto, Dragonball-Z, Hunter x Hunter, Pokémon, and so many more classics. Yet, the genre itself is growing faster than ever before.  
One student organization offered by Bloomsburg University is the BUMAC, the Bloomsburg University Manga and Anime Club.  
Jordan Reader is the current President of the club and has been a member for over five years. The club is advised by William Barnes, the Executive Director of Enterprise Applications at Bloomsburg University.  
Reader discussed the importance of anime, "It is important because anime/manga can tell stories that regular television cannot and it can inspire people to create new things." Anime is its own realm that other genres cannot replicate.  
Manga panels may relate to classic comics, but the way mangas are read contrast from other traditional comics. As with Japanese writing, manga stories are typically read from right to left and from top to bottom. The tale is divided up into Koma frames. So, in order to read a manga page, begin with the Koma in the top right corner and end with it at the bottom left. 
In recent years, it has grown tremendously with the release of the Demon Slayer movie which attracted a large audience of anime fans and new upcoming fans. 
Reader shared, "I would say that Pokémon and the games that came with it helped anime come into the popular culture but what really put anime in the fore front was Demon Slayer." His favorite animes are Black Lagoon and Trigun. His favorite manga is Komi Can't Communiate.  
The availability of streaming services with anime on them also helped because you could choose any subscription you wanted and watch thousands of anime shows and movies. However, the acquisition of FUNimation by Crunchyroll has perhaps helped since there is now a main streaming service for anime. 
The BUMAC currently has 15 members and a tremendous website with a strong foundation for all information regarding the club and their meetings. The organization is always open to new members and has a series of flyers around campus. They also can be contacted through their HuskySync page as well.  
On theme nights, people choose a topic, display titles associated with it, then decide what to watch. Additionally, they hold open general meetings where they can have discussions, as well as activity nights where members play board and video games. 
Check out their website to learn more about the club, anime/manga, view fan art, and lots more.