New kid on the bench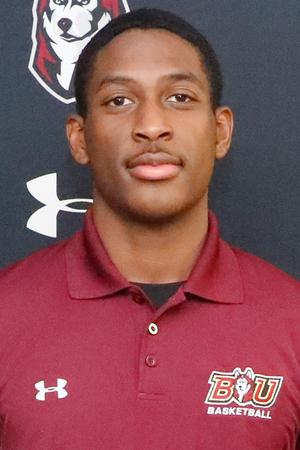 The Bloomsburg Men's Basketball team has not only brought in two new coaches to the staff since their 5-21 record season a year ago but has also added a student who has already earned coaching duties in his short stint with the program.
Ozzy Grimmage came into this school year expecting to live the normal lifestyle of a college student. Going to class, studying, relaxing with friends, and maybe even attending a party or two every so often. But the 19-year-old sophomore now holds the responsibility of helping lead the Huskies to wins this winter.
He's helping instruct the men of BU's basketball team alongside new Head Coach Chris Bess and Assistant Coach Isaiah Smiley. He's technically labeled as a student assistant, but when I sat down with him, he fully explained his role and his exact duties on a day-to-day basis.
"I saw that on the roster it has me down as an assistant, but to be honest I feel a part of the staff as much as Coach Bess and Smiley do", Grimmage stated. "Even though they're both older than me, our conversations are no different than what you'd expect to hear in any other locker room.
Grimmage was initially introduced to the team earlier this year with the help of his best friend and sophomore guard Matt Bengel. "I literally came home one day and [Bengel] was like 'my coach said we could use a manager so would you be interested?'." "Why not?" he replied. With the two being such close friends, Bengel would bring Ozzy along to hang out with his teammates last year when they were freshmen. "They all love Ozzy. It literally fit in so perfectly in our clique when I would bring him around", said Bengel when we spoke. "There couldn't have been anyone better to ask."
Originally, a manager's job is to assist the players with whatever they needed, like cups of water or someone to rebound shots for them. Let's just say Grimmage made a great first impression on the eyes that were watching him during his first few practices with the team. "I just saw him engaged with whatever was going on. We'd be running practice plays and you can see him locked in on each move" said Coach Smiley. He added "We [Bess and I] once saw him talking to one of our players after they goofed up in a scrimmage. Once Bess saw that the player responded positively, we both knew what we needed to do."
Grimmage no longer sits in the bleachers holding an iPad camera or behind the team's bench holding Gatorade bottles. His new seat is 3rd closest to the scorer's table, right in between the coaching staff and the rest of the players. Surprisingly, that isn't even the coolest part of his job. He stated, "my favorite part is during each halftime when the three of us huddle in the hallway to discuss how the game's going before we give our speech to the team".
The strangest part of his job? He replied "the age thing". "It's kind of crazy at times that I look over in the locker room and see some of the upperclassmen like Jake or Louie and I have the power of telling them what to do even though they are older than me."
Grimmage has found himself in an opportunity that he probably never thought was even possible, but he's truly making the most of it. These types of things can happen when you're being a helpful person, even when you think people aren't noticing. Someone always is. Check out Ozzy and his guys live in action for their next contest on Wednesday, February 1 at Nelson Field House as they take on PSAC opponent, Lock Haven University. The first tip is at 6 p.m.