TikTok Ban on Campus?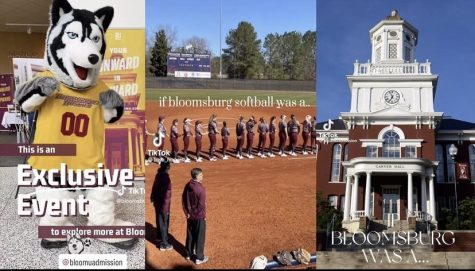 UPDATE from Novalea Verno, Staff Writer: 3/8/23 at 12:10 PM: 
The Pennsylvania Senate Committee for Communications and Technology passed a proposal for TikTok to be banned on state devices and networks on Monday. 
Senate Bill No. 379, authored by Senator Kristen Phillips-Hill, calls for the banning of the app created by the Chinese company, ByteDance. The ban is in response to ByteDance's connections to the Chinese government and the potential for the app to be collecting data on its users.
"Our constituents and the people of Pennsylvania's personal safety and our national security are threatened by cyber vulnerabilities of systems that support our daily lives," said Phillips-Hill during the committee meeting.
The proposal, while being the first of its kind in the state of Pennsylvania, mirrors many others being introduced within state governments across the country.
"So far, 27 states have prohibited the use of TikTok on state devices and networks," said Phillips-Hill.
From here, the bill will be introduced to the Pennsylvania Senate floor.
PREVIOUSLY POSTED 3/7/23
The Pennsylvania State Senate may soon ban the popular social media app, TikTok on state networks. This ban would include Bloomsburg University's campus, leaving some students in opposition. 
State Senator Kristin Phillips-Hill of York introduced the bill and chairs the Senate Communications and Technology Committee. A main reason for the proposed ban is a problem that has been looming over TikTok for several years: security. TikTok is owned by the Chinese company ByteDance. For years, claims have been made that the company had been stealing the user data of American citizens.
"I certainly believe that it presents what I consider to be an unacceptable level of cyber espionage, collection of government data, and a threat to each and every one of our personal security," said Phillips-Hill.
Now, more states and institutions are taking action to ban the app. North Carolina and Wisconsin are two of the most recents states to issue a ban on the app. In her interview, Phillips-Hill made a point in referencing that the United States Army was one of the first agencies to ban the app on devices and networks. Even the Pennsylvania State Treasurer, Bloomsburg alum Stacy Garrity, class of '86 has already banned Treasury department workers from using the app on their networks and devices.
Phillips-Hill went in-depth about how the bill would be enforced. "Much like when you were in school, if you remember, when you looked for things that were not acceptable there were filters put onto those devices."
Not all students on campus share the same opinions as Senator Phillips-Hill. Students like Aiden Mateos, a Secondary Education Citizenship major, voiced their opinion on the bill. 
"I think it's not a good idea to ban TikTok personally. Just because TikTok is a form of happiness and joy for a lot of people, especially on campus. Like it's a way they can escape."
Phillips-Hill understands that some people, especially the younger generation of students, might not feel the same way. 
"Students are adults. They're rational actors. I think they should have the information that they need to understand what their personal security threats are… However, just remember that the government has a lot of personal information about them… You're born, and you get a birth certificate. You have a job and then you find yourself out of work through no fault of your own. You can access unemployment compensation-they will have your name. Address, your date of birth, your social security number. All of that information is used to steal your identity" she said.
Many wonder if recent political escalations with China had anything to do with the introduction of the bill. Phillips-Hill stated, "This is an issue that goes back a couple of decades. When you talk to people in the field, they had concerns 20 years ago, when U.S. businesses, manufacturers, and pharmaceutical companies were engaging companies with ties to the Chinese government about protecting intellectual property and all those businesses' patents and information" in regards to the country's relations with the United States. 
The general response to the bill has "been very positive. It has bipartisan co-sponsorship with members of the Commonwealth, and members from differing parts of the state with different backgrounds. What is interesting is that almost every member who has served in the United States Armed forces has signed onto this bill" according to Phillips-Hill.
The bill is planned to be voted on by the Senate Communications and Technology committee on Monday, March 6th. If the bill is passed, and successfully signed by Governor Josh Shapiro, the bill will go into effect in 60 days.