Will Bloomsburg run on Dunkin'?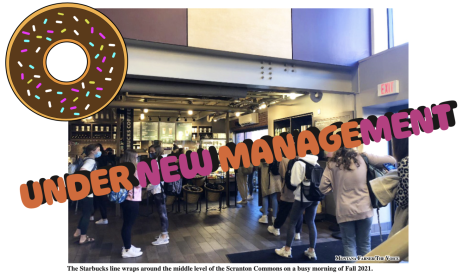 Dunkin' Donuts is set to replace the Starbucks in the Scranton Commons, which was closed earlier this year, with an opening planned for the beginning of the Fall 2023 semester.
John Scheers is the Marketing Manager of Dining Services and was asked if there was any update he could give on the new dining location, hinted at in an email that announced the closure of the Commons Starbucks. In an email, he confirmed the new location would be a Dunkin' Donuts saying, "We're excited to share that Dunkin' will be the new brand joining our campus dining offerings at Bloomsburg. It will be taking the place of the former Starbucks location in the bottom floor of the Scranton Commons Building."
However, before the closure of the Commons Starbucks, it was one of the dining spaces plagued with staffing shortages. With the closure of the Commons location, this left the Starbucks in the Andruss Library as the only one on campus. 
Scheers was then asked how they are planning to combat those staff issues this time for Dunkin'. He stated, "We have already begun the active hiring process for our Fall 2023 semester opening. This includes student workers and full-time and part-time employees."
He would go on to state that wages would be 12 dollars an hour for student workers and that anyone interested can reach them over Instagram. With the announcement, the opinions of students on campus seem happy with the new brand. Bryce Turner is an ace student and will attend BU in the fall for music education. 
 "I think that would be great. I like Dunkin Donuts, and I'm sure a lot of people will agree. I'm sure it will be a success."
Meanwhile, Xavier Newman is an anthropology major and shared his opinion, saying, "I guess it's cool; it's another way that students can get some breakfast foods, besides going to the Commons and Monty's. So I don't mind it."