'Take Back the Night' speaker Brittney Piper educates BU students
Women's Resource Center hosted an event in honor of Sexual Assault Awareness Month
Bloomsburg University's on-campus Women's Resource Center hosted an event titled "Take Back the Night" as part of a nationwide effort to educate and support students during Sexual Assault Awareness Month.
The event, which was hosted in Carver Hall, was open to students and community members alike. 
The big drawing point for many attendees was the headliner of the event, Brittney Piper. Piper is a speaker, healing coach, leading national expert on sexual violence and forensic neurobiology expert. Piper is a rape survivor and uses her story to educate and advocate for victims. Her work has been recognized by The United States Army, the Laura Bush Institute of Women's Health, Cosmopolitan and Elite Daily.
The night presented audience members with an intimate environment to discuss a sensitive topic. In an effort to aid individuals having a difficult time navigating the subject matter, the town's Women Resource Center Inc. and members of Bloomsburg University's counseling center were present and assisting the program.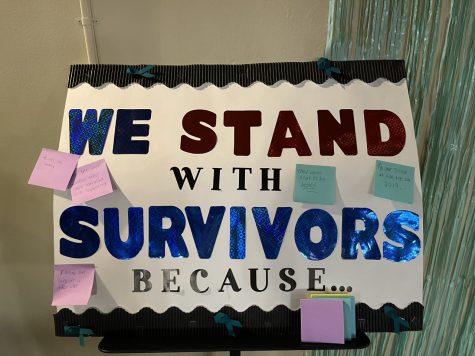 The one-hour-long program included Piper sharing her own story, allowing attendees to learn firsthand the horrors of sexual violence and its lasting impact. Anonymous stories of students Piper has encountered throughout the years were shared as well, bringing the audience face-to-face with the reality many college campuses across the country face. Statistics on sexual violence were shared throughout the night along with tips for bystanders, those who know someone who has been assaulted.
The evening was a powerful event leaving staff happy with how it turned out.
"Everyone on campus should have heard this talk," said Erica Miller, a sophomore and Women's Resource Center employee.
Students left the program with a better understanding of rape culture, how to be a better advocate for victims and more aware of resources present on campus to receive help.
"[I learned] how to advocate for a better culture… around rape," said freshman Destiny Lopez.