Spotted Lantern Flies cover the campus and local Bloomsburg area as many residents continuously stomp them out of existence. The infesting insect has returned to campus and is making its debut, starting in May, all over the outdoor areas.
With its spotted wings and red undertone, this bothersome insect is nothing short of a nuisance.
This invasive species damages crops as they feed on a wide range of plants such as hardwood trees, apples and grapes. This continuous feeding, called phloem feeding, causes significant damage to forest and agricultural industries.
One of the most negative abilities of the spotted lantern fly is the "honeydew" substance they excrete. The insect has specialized mouthparts, known as stylets, that suck up the interior of plants that consists of mainly sugar and water.
Story continues below advertisement
Then forth, excess sugar and water are excreted into a "honeydew" secretion that can attract ants and create mold on many plants.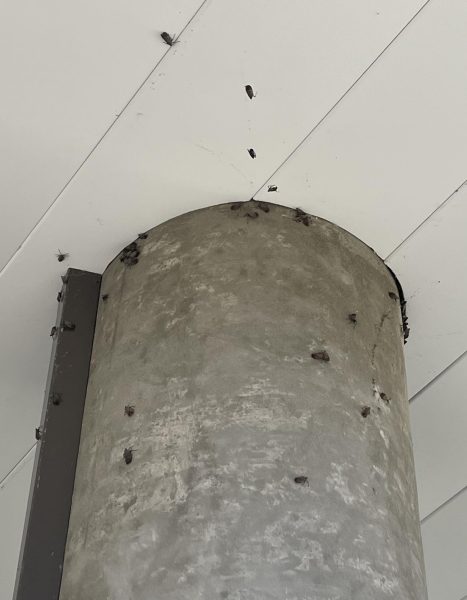 Origin & Cause
The spotted lantern flies are native to China and started being discovered in Pennsylvania just about ten years ago. They have been a pest ever since, invading all over the state of Pennsylvania and across the U.S.
The Pennsylvania Department of Agriculture has provided a map-based insight for reported spotted lantern fly sightings allowing reports of all stages of life from egg, nymph and adult.
The Pennsylvania Department of Agriculture has conducted a map for 2023 Spotted Lantern Fly Quarantine areas  provided by Chairperson of the Environmental, Geographical, and Geological Science (EGGS) department, Dr. Patricia Beyer. Nearly forty counties are marked on this quarantine map as previous existing quarantine.
Six PA counties have been added to the list as of 2023 including Butler, Clearfield, Clinton, Fayette, Lawrence and Somerset.
Insect Carcasses Lay Scattered
Insect carcasses, wings and limbs lay scattered across campus and throughout the town as more people continue to squash them.
Dr. Jennifer Whisner, Associate Professor of the Environmental, Geographical, and Geological Science (EGGS) department has squashed a great number of the insect, both on campus and in town. Her anecdotal evidence shows that they were not seen two years ago, few seen last year, and now an abundance this year as expected in territory growth.