The  sounds of buzzing machines and the vibrant colors of ink set the stage for Bloomsburg locals to be the canvas for three talented artists. Tucci's Tattoo Parlor has opened a new location at 208 Iron Street going towards Big Chill Ice Cream.
With the loss of the low-priced quality tattoos from Elmer's a few years ago, students and other locals were left paying more and waiting longer for appointments from other locations.
Tucci's Tattoo Parlor strives to make a name for itself in a new location, while providing fair prices and good service.
A career written in ink
Hazleton-native, Isaiah Tucci, opened his shop originally three years ago in Millville, but recently relocated around last May. He has been tattooing on-and-off for the last ten years.
Story continues below advertisement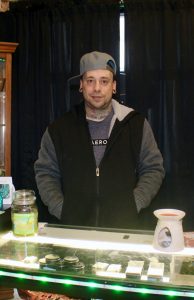 The artist decided to move his shop on Iron Street in Bloomsburg due to his recent move from Millville. Tucci hopes to expand his shop into a storefront along Main Street.
The shop is made up three tattoo artists, along with a piercer who comes in on Thursdays. While the shop has no defined style, the staff members appreciate any unique designs that come their way.
"I really appreciate Japanese style", said Cory Radkins, fellow artist at the tattoo parlor.
Many of the previous clients moved over with Tucci's as they continue to visit the location for more. The small business is more booked up with appointments now than earlier in the year, but the owner takes walk-ins when he can.
Specials and events
Tucci's Tattoo Parlor was a vendor at the annual Bloomsburg Fair this year where they profited around $8,000. Despite paying for a vendor spot and other fees, the shop profited well from the large population of fair attendees.
On Friday, October 13th, the tattoo parlor advertised a tattoo sale, with a sign on the sidewalk of Main Street, for fifty-dollar flash tattoos. This attracted a decent amount of customers as Tucci's Tattoo Parlor continues to grow its identity around the Main Street of Bloomsburg.
Pricing depends on the piece being done, especially depending on how large and detailed it is. However, the shop minimum is $65.
Around various holidays during the year, the parlor will continue to offer flash deals and other specials according to the owner.