Women's Soccer beats Shippensburg in final seconds on Wednesday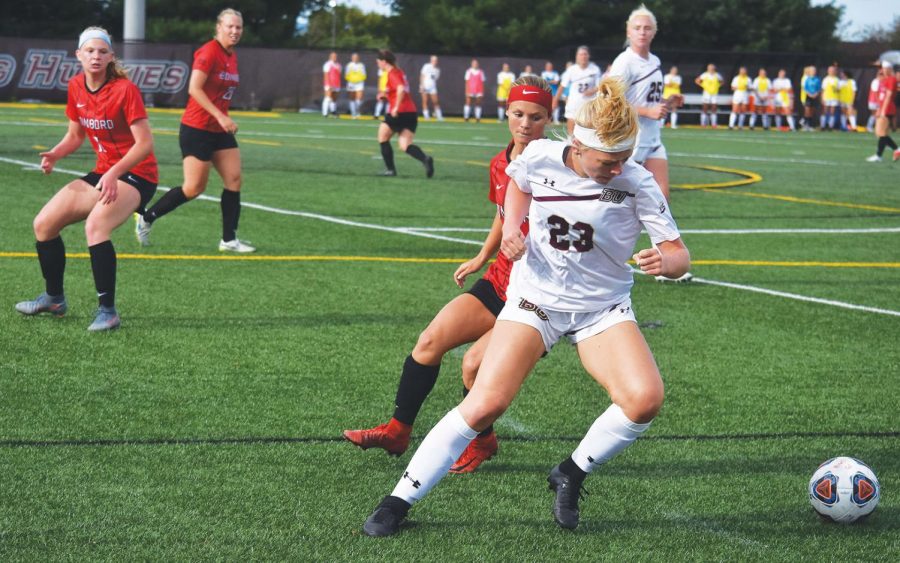 The Bloomsburg University Women's soccer team scored with less than five minutes to play to shock Pennsylvania State Athletic Conference (PSAC) foe Shippensburg University, 2-1, for the Huskies first conference win of the 2019 season.
Senior midfielder Megan Callan saw the time about to expire before striking her first goal of the season to the upper right corner, lifting the Huskies to victory.
The win improves the Huskies overall record to 4-1 (1-1 PSAC), while Shippensburg dropped to 3-2 (1-2 PSAC) overall thus far in the 2019 season.
The match began with the Red Raiders of Shippensburg scoring first and late into the first half to take a 1-0 lead into the half.
It was not until the 52nd minute of the match where junior midfielder Lauren Hoelke finally got it past the Ship goalkeeper to knot the match at one a piece.
Bloomsburg did not show any quit as they kept the pressure on the Shippensburg defense for each one of the closing minutes of the match.
The Huskies were able to fire many shots on goal in the final minutes of the battle, but it wasn't until Callan's strike with seconds remaining to finally break the tie and give the Huskies the much needed conference victory.
The Huskies outshot Ship by a total of 35-5, with 14 of the Bloomsburg shots coming on goal. Shippensburg on the other hand was only able to fire three shots on goal throughout the entire match. Redshirt sophomore goalkeeper Jenna Hawkins preserved the BU win with just two saves on the night.
The win for Bloomsburg comes in perfect timing as the Huskies dropped their last match to East Stroudsburg University in double overtime at 1-0.
The previous loss dropped BU out of the national rankings after starting the 2019 season at #5 overall.
The Huskies will now use this win with momentum as they now look ahead to conference match-ups in every regular season game for the remainder of the season.
Bloomsburg returns home for their next match-up on Saturday when they welcome newly added conference opponent Shepherd University to Steph Pettit Stadium.
For more information on the Huskies win over Shippensburg and this Saturday's match against Shepherd, visit buhuskies.com.