The Alvina Krause Theatre
One night as a freshman I found myself walking through town and stumbled upon a theatre that looked like it was straight out of the 1940's. This discovery was of one of my favorite places to see plays and experience the art form of acting in an intimate and comfortable theatre. The Alvina Krause Theatre on Center Street here in Bloomsburg is one of the true hidden gems of the tiny town. I sat down with two of the theatre's Education Department employees, Abigail Leffler and Bry Kifolo, to talk about the theatre and its history, as well as why I believe that preserving these theatres and all that they stand for is so important for the new generations.
The Alvina Krause Theatre has been run and owned by the Bloomsburg Theatre Ensemble (BTE) since 1980. The theatre is currently in their 42nd season and has presented over 250 shows in the nearly 40 years of production. BTE was originally solely an acting theatre but has developed to where it houses performances as well as creates ties with Bloomsburg University, the community, and travels around the Mid-Atlantic area to present different shows and opportunities.
Three of the original ensemble members from the 80's are still active now and are accompanied by four additional ensemble members as well as one ensemble candidate. There is an average of six shows produced a year on the main stage, but the ensemble also travels and does trunk shows, where they can perform the show anywhere, a few times a season.
Bloomsburg University utilizes this theatre quite often for different shows and performances that the theatre department is producing. This fall the play "Be More Chill" is going to be shown at the theatre and is going to be solely BU students. "Be More Chill" will be running from October 31st to November 3rd. This opportunity for students in the theatre department to see how a real theatre works and the world that is theatre up close and personal is a beneficial resource for them as they go into the real world wanting to work in a similar field.
BU and BTE have also worked on collaborative projects. The weekend of October 17th through the 20th, BU students and the BTE ensemble will be coming together for a collective play called "Remembered" and is going to be shown at the Rosemont Cemetery. The summer and winter show produced by the theatre is often another opportunity for collaborative plays and this summer will be the next collab after "Remembered."
Kifolo found solace in the theatre when she was a student at BU and stated, "the theatre is a place to come together; it could be university students or the community, but either way it's a place to experience something jointly." So, whether that be laughing at a hilarious comedy or seeing a relevant play about drug abuse, having a place for the full community of Bloomsburg to come together is something that theatre as a whole does and is really attempted to successfully do at this theatre.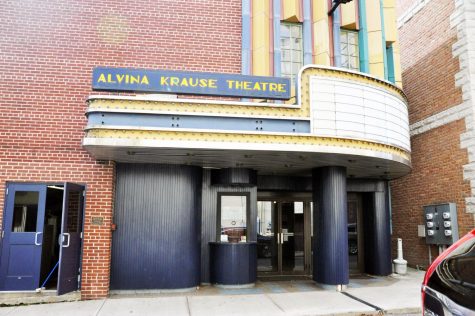 There's a reason why theatre has survived as long as it has being such an ancient art form. Leffler said it better than most could when she said, "the right play or genre can create a real love and connecting with this art form is something that anyone can do. To have accessibility for those who enjoy watching or acting on a professional level in a small town like this is amazing. Not only does it help the university students who want to work in theatre, but for the students who are growing up and have the accessibility is so valuable."
If anyone is interested in seeing one of the plays at the Alvina Krause Theatre, I say go for it. You really never know how beautiful a gem is until you take a look at all of its beauty. Hope to see you all at "Remembered" in the spooky Rosemont Cemetery.