Senior Spotlight: Kirsten Wozniak of women's lacrosse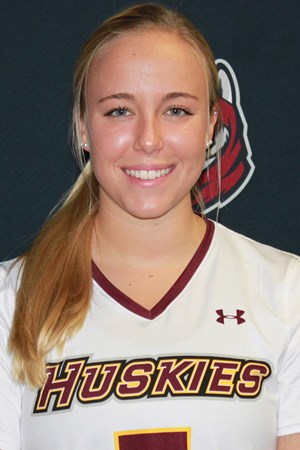 In today's Senior Spotlight, we visit a senior member of the Bloomsburg University women's lacrosse team who recently had her final season cut far too short.
The NCAA announced back on Thursday, March 12 that all 2020 winter and spring championships have been cancelled due to the recent COVID-19 outbreak.
Women's lacrosse member Kirsten Wozniak, a senior from Oradell, New Jersey, is another one of the thousands of college spring athletes across the country who was scarcely able to compete in their final athletic season in college. The Huskies played just five games in the 2020 season after the remainder of the season was cut short to the potential ongoing spread of COVID-19. BU finished those five games with a 4-1 overall record.
"Having our season cancelled my senior year is definitely a hard pill to swallow," Wozniak stated. "With everything going on with the corona virus it was what needed to be done, but that doesn't make it hurt any less."
In her four-year career at Bloomsburg, Wozniak played in 56 total games for the Huskies and registered 26 goals and 32 assists for a total of 58 career points, just over one point registered per contest.
The Huskies had a fine start to the 2020 season, winning four of the opening five games before having the season come to an abrupt halt. Bloomsburg featured five senior players this season and had a lot of potential firepower to make a run in the Pennsylvania State Athletic Conference (PSAC) tournament prior to this season.
Bloomsburg was in second place in the PSAC Eastern division standings behind just West Chester before the cancellation of the season. The Huskies did not make it into their bulk of conference play on their schedule.
"This team was something special, and we all felt it on the field." Wozniak added, "To have it be ripped away from us in what feels like a second is hard to deal with, but we all leaned on each other. 'Anything can be taken away from you in an instant' has a whole new meaning to athletes everywhere."
The women's lacrosse team was another one of the seven-spring varsity athletic teams at Bloomsburg that played just few games in the 2020 calendar year.
But in the Huskies' second-to-last game of the five-game season against non-conference opponent Wilmington University (Delaware), it was almost like Wozniak knew it was going to be one of the final games of her career.
The senior midfielder posted the breakout performance she was waiting for in a Bloomsburg uniform, recording a career high six goals and an assist for seven total points in the 24-9 victory.
One of Wozniak's six goals in the game against Wilmington was an impressive highlight reel behind the back tally that got plenty of Twitter attention following the game.
"Everything happens for a reason like having myself a big game at Wilmington, and looking back at it now after everything, it feels like it was supposed to happen in a weird way."
"It's also upsetting in a way because it shows that my team and I were just getting started and that there was so much more to come," she said.
The Huskies will now have to look ahead to the 2021 season and incoming recruits to Bloomsburg. The NCAA also made specific guidelines that all upcoming recruiting will have to be held virtual through calls, emails and text until a further date.
Attacker Grace Kelleher, midfielder Cailyn Gormley, defensemen Delaney Shappert and goalkeeper Angela DiPasquale were among the other four seniors for BU that had their final season in a Huskies uniform cut short.
The NCAA has granted all spring athletes an extra year of eligibility following the cancellations due to the Covid-19 outbreak.
"I wish that the other seniors and I could have finished out the season the way we wanted, but right now it's a lot bigger than sports. We all need to do our part to stay safe and healthy, and that's all that matters right now."