Athlete Profile: Collin Hummel of Bloomsburg University Swimming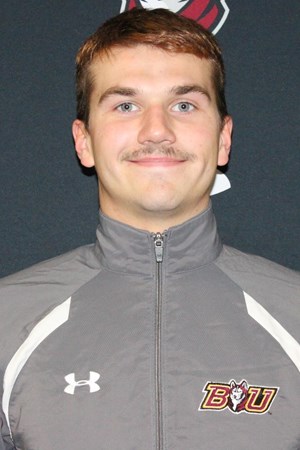 With the effects of COVID-19 ever changing and evolving, many athletes were faced with the heartbreaking realization that their season would be ending abruptly. For some athletes this happened early into their spring 2019-2020 season, while for others this occurred during the postseason for winter athletes.
Collin Hummel is one of many athletes who is now coping with the loss of his season. Hummel is a junior swimmer from Lewisburg. He was competing at the 2020 NCAA Division II Swimming and Diving Championships on Wednesday at the SPIRE Institute in Geneva, Ohio when the news came that the rest of the meet was cancelled. He was to be competing in the 200-yard freestyle with his team of fellow redshirts junior Kyle Dix, sophomore Pat Agnew and sophomore Colton Schnars. The race was scheduled for Thursday afternoon.
When asked about how it felt to have the season cancelled during its most climactic moment, Hummel stated, "Having the NCAAs cancelled mid-meet was a bit of a shock for all of us. We [200 Free Relay participants] had earned a spot in the finals that night, and that opportunity to go faster was taken away. I felt horrible for our teammates and fellow PSAC swimmers who didn't get to swim the events they were invited to swim in."
Hummel's commentary shows that the effects of this virus are not only physically hurtful but also psychologically damaging, as the grief of missed opportunity, ones that many work all season for, are lost in a traumatic way. This is an issue that athletes at every university and every sport share, knowing that their season can never be replaced.
Hummel had a very impressive 2018-2019 season, achieving accolades in both academic and athlete endeavors. As a swimmer, Hummel earned five PSAC All Conference marks and was a PSAC Champion in the 200 Free Relay and the 400 Free Relay. He earned a total of 37 PSAC points for the Huskies at the meet last season.
Some of his best times were in the 50 free and the relays. His time in the 50 free was 20.41, which was an NCAA cut. His PSAC Champion time for the 200 free relay was 1:21.45, while the 400 free relay was 3:02.02.
On the academic side, Hummel proved to be an exemplary student as well. He achieved the D2 ADA Scholar Athlete Award, PSAC Scholar Athlete Award, BU Scholar Athlete Award and made the Bloomsburg University Dean's List.
When speaking on his personal feelings about losing his chance to swim at such a crucial point, Hummel stated, "Personally, having the meet early has motivated me for my final season next year. It kind of feels like we have unfinished business at the NCAA meet, and I'm going to work as hard as I can in hopes that we will have the opportunity to go back and finish what we started."
As Hummel looks at his lost season as a challenge to be overcome, it is a reminder to all to try and look at the pandemic in a different way. With this, the fact remains that this event is both tragic and historic, as the loss of the 2019-2020 season will be forever sketched into the history books for student athletes.