Women's Soccer Announces New Recruits for 2020 Season
Just a few weeks ago, the Bloomsburg Women's Soccer head coach Matt Haney, announced the addition of nine new recruits for the 2020 season. With the accomplishments the women's team had last season, it is crucial that they look to uphold their standards and continue their streak of a winning record, into next season. Overall, in 2019, the women had a record of 18-3-1, finished sixth in the country, won the Pennsylvania State Athletic Conference (PSAC) regular-season title, as well as the Atlantic Regional championships. Additionally, their 18 wins tied the program record for most victories in a season since 1996. 
The nine new recruits added to the team include, Lauren Bull, Chloe Carns, Madison Davis, Morgan Desaulniers, Morgan McIntyre, Morgan Marks, Alexa Ryan, Gina Sexton, and Amanda Stoll. Throughout the recruitment process, each athlete was welcomed into the Bloomsburg Soccer Family, in hopes that they will reach success throughout their four years as B.U. Huskies. A few of these newcomers were interviewed regarding their feelings towards joining the team, and also gave their thoughts on how they personally can contribute on and off the field.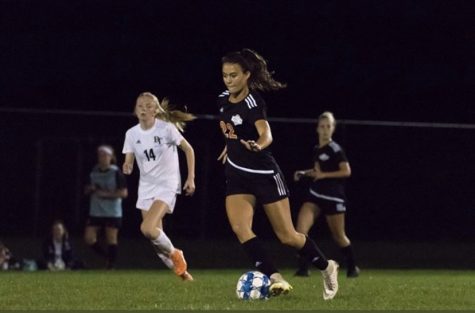 First, is Chloe Carns from Central York High School, in York, P.A. She comes to Bloomsburg having a 2018 York-Adams Division I first team All-Star forward award under her belt, and has high expectations for the team.
"My expectations are for everyone to push each other and work our hardest at every practice and game. My goal for myself and my team is to improve on last year's successful season." 
Carns also spoke about how she will prepare to uphold the standards of playing for a program that is a national contender, and what unique factors she will bring to the team. 
"I will prepare by putting in extra hours to make sure I'm at the top of my game in order to build on the record from last season. I am excited and honored to be a part of BUWS. I will contribute by bringing my hard work ethic and positive attitude." 
Overall, Carns's willingness to work hard and optimistic demeanor will hopefully take her to new heights in her Bloomsburg Soccer career. When asked about what she is most excited about coming to play for the Huskies, she stated, "I am excited to be able to train and compete at the collegiate level and build new friendships with my teammates."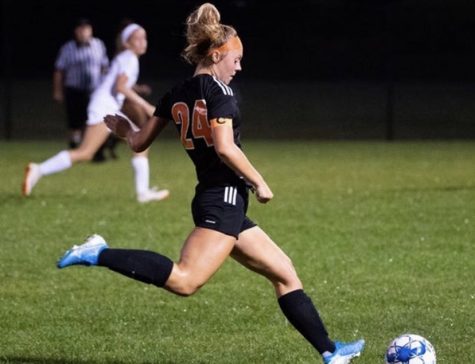 Next to the hot seat is Madison Davis, also from Central York High School, in York P.A. Coincidentally, the senior happens to be best friends with Carns since fifth grade, and is stoked to continue her athletic career with her at Bloomsburg. Before committing to B.U., Davis was a varsity starter for all four years of high school, as well as leading her team as captain both her junior and senior years. Additionally, she was named to the Pennsylvania All-State team in 2018 and 2019 while earning All-Region East Team honors in 2019.
The senior, who has always dreamed of playing Division I soccer in college, ultimately chose Bloomsburg because of its warm environment and high level of talent within the program. Likewise, she has high aspirations coming to Bloomsburg, expressing, "My expectations for the team coming into my freshman season are to continue to compete and challenge each other each and every day. One thing I would like to accomplish this year is getting on the field and earning a starting spot. As a team I want us to win the PSAC, and become NCAA Champs."  
Another important aspect of women's soccer in general includes the many differentiating factors between playing high school soccer, and collegiate soccer. The skill levels, training, and competition aspects of the game vary greatly and can make or break an athlete when they come to college. Davis was asked to give her opinion of these differences, and expressed, "I think one of the main differences between highschool and college soccer is the physicality. I also think that the competition is going to be way different because now everyone is just as good as you are and you have to compete each and every day for a spot on the field." 
Joining a completely new program could be intimidating for some individuals, especially one that competes on a national level. Davis also gave her thoughts about how she is getting ready to maintain the standards of playing for a program that is a national contender, and what exceptional qualities she exhibits, that set her apart from others.
"I think that playing for a program that is nationally ranked will push my soccer abilities to a new level. Something that I am able to bring to the team is my leadership and ability to adapt to anything that is thrown at me."
This level of flexibility and adaptability is very significant in the soccer world and not typically found in your average soccer player. By demonstrating these qualities, Davis will be an important asset to the Bloomsburg Soccer team, offering assurance and reliability in a do-or-die situation. Davis also expressed her excitement for the season to start, stating, "I am personally most excited to be a part of such a wonderful soccer team and I can't wait for it all to begin."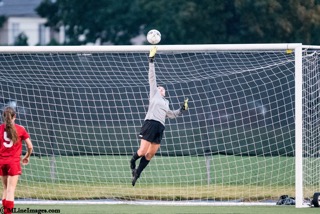 Last but not least is Alexa Ryan, native of Macungie, Pennsylvania from Emmaus High School. The goalkeeper was the team captain her senior year, and holds the record for most varsity goalkeeper starts at her high school. Additionally, she earned a spot in the All-Star game this coming June, and was a Top Drawer for the Mid-Atlantic Class for 2020. Coming into her freshman season, she is ecstatic for it all to start and has high hopes for the team. 
"I am excited to join the Bloomsburg soccer team. I have been following the teams progress since I was a freshman in high school. Every year they make great strides and I am excited to be a part of such an amazing program. I am expecting our team to be able to compete at a very high level. I am hopeful we can match or beat last season's overall record. I would love to see the team win the Atlantic Regional title for a third consecutive year and again be a national contender." 
Like Carns, and Davis, Ryan also voiced her thoughts on how playing for a team that is a national contender will motivate her to push herself even further. " The fact that the team finished 18-3-1 is a great accomplishment. Entering a new season brings a certain amount of pressure to be able to keep winning and uphold or surpass the statistics from last season. I have been working hard and keeping my fitness up. "
Ryan also brings exceptional skills to BUWS, noting that she seeks to ensure teamwork in all that she does.  "I am excited that I am going to be a part of such an amazing soccer program. I am a hard worker and a team player. I look forward to being mentored by a great group of girls and developing into a stronger player and person. I believe every player has a unique set of skills. Each player can teach or learn something from one another." 
Beyond this, Ryan is also thrilled about her commitment to Bloomsburg, not only on the field as an athlete, but also off the field as a student. "I visited the campus when I was a freshman and have loved the school ever since. Bloomsburg was always on the top of my list. I am excited to have the opportunity to compete at a high level while pursuing my degree. I am also looking forward to meeting the team and working with Coach Haney and his coaching staff."
  The anticipation leading up until the start of the 2020 season will only intensify as the Huskies prepare and look to maintain their high expectations as a winning team. With the addition of Carns, Davis, Ryan, and the rest of the incoming freshman recruits, the new Huskies look to rise to the challenge ahead of them, in their four years as members of Bloomsburg Women's Soccer.