Bloomsburg University fraternity members caught trading racist messages on social media
Members of suspended BU fraternity Acacia allegedly traded racist messages, using the n-word and swearing off permitting black members, according to a video shared on social media Wednesday morning.
In the screen-recorded video, Snapchat user Brandon Smith states: "Lol all white guys bro." Mike Battista then suggested a vote to allow 
black males into the organization. Snapchat user Damn Daniels continued with: "Huge mistake… If they ever got added to this group I'm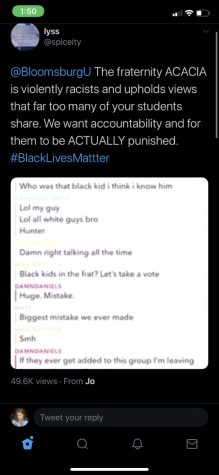 leaving, I want to be openly racist."
The university issued a statement, saying the language in the video is not representative of the institution. "Upholding the First Amendment principles of free speech and expression does not mean the University condones racism and racially charged language," it said. BU also mentioned Acacia was officially suspended last year.
BU senior Timeshah Clark, president of Alpha Sigma Alpha, described how she felt when first watching the video: "It was disturbing for me to see people use that word so loosely and to see how they felt about adding African Americans to their organization…I was disgusted."
When asked about current and past actions taken by the university, Clark explained her opinions. "We say we hate when things like this happen, but there hasn't been a hate speech policy put in place, so that makes me question how much our school really wants change."
As president of ASA, Clark had suggestions about policies that Greek Life could implement. "We have training for if a person slips up with alcohol or drugs, but there's no training for things like this."
She also had questions for Acacia "[Greek life members] all have values that we stand by, in ASA we're women of poise and purpose. Where in your core values are you teaching diversity and that inclusion matters…how are you [reprimanding] these people."
This was not the first racial incident to occur within Bloomsburg. Last October, students took upon themselves to organize a protest that was sparked due to a video that surfaced the internet showing a Bloomsburg student repeating racial slurs.
Bloomsburg students took to social media to express that something needs to be done about students holding racist values in Greek Life.
"Bloomsburg always turns a blind eye to white Greek life and how racist they are," Bloomsburg senior Nashauntay Robinson said. "There are sororities that only let blonde…white girls in their sorority and it's never an issue. But as soon as black frats and sororities want to throw an event it's something."
Dominic Harris stated on Instagram: "I was jumped by almost 30 fraternity members last year and nothing was done about it, and the cops had footage!" He then continued with, "When I took matters into my own hands, I was arrested within 5 hours and was lying in a jail cell for 30 days."
Acacia indicated Wednesday they would comment on the situation, but they had not yet done so by late Thursday morning.