Senior Spotlight: Leslie Pamer of Women's Volleyball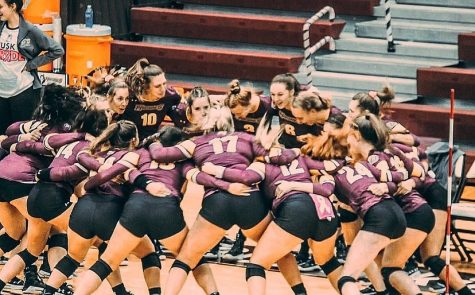 Regardless of the fact that Bloomsburg Fall Sports have been postponed due to COVID-19, Bloomsburg student athletes are keeping their heads held high, in hopes that their seasons will resume in Spring 2021.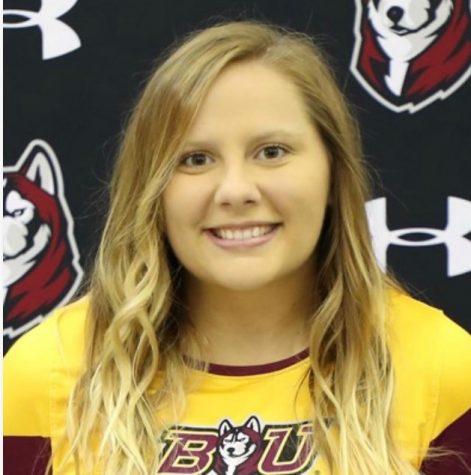 Specifically, one student athlete who has been deprived of her senior season for the time being, is Leslie Pamer, a setter for Bloomsburg Women's Volleyball. The senior, from Wooster, Ohio transferred to Bloom last season, after competing for Frederick Community College in Frederick, Maryland her freshman and sophomore years. Likewise, the Huskies welcomed her into their program with open arms, as the 2019 season was only their second season of varsity competition. Having come to Bloomsburg with already two years of experience under her belt, Leslie brought great depth to the BU. Volleyball team, who had an overall record of 10-22 in 2019.
Despite this losing record, the Huskies showed immense improvement in 2019, compared to their first year in 2018, as they reached only six wins, and had 22 losses. That being said, the Huskies God willing, look forward to improving their record even further during their third varsity season in Spring 2021.
Pamer was recently asked to give her thoughts on the current unfortunate situation, and how she has been staying in shape during her time off. She expressed, "To keep myself in shape, I did a lot of at home workouts. I live near a track so it was nice to have that available to me for conditioning and I would bring weights and gallons of water to help with strengthening. I have been making do with what I have. Coming into the fall with so many changes, I just needed to create my own schedule. I get all my work done in the morning, I keep up on my nutrition, and then I will do at home workouts or go to my properties gym. The only difference is keeping the distance from my team, but overall I still have the student athlete mindset."
By following her own schedule, and implementing her own workout regimine, COVID-19 has not stopped Pamer from staying active, and is most definitely prepared for any kind of modified season that lies ahead. 
Similarly, during the summer, the PSAC announced that they are optimistic that they can conduct originally scheduled Fall 2020 Sports during the Spring 2021 semester. Pamer was also questioned on how she is preparing to possibly undergo the Volleyball season in the spring, and exclaimed, "My mind is already ready. I am keeping my fitness up with working out and really focusing on my grades. Academics is a big part of this program and due to the circumstances, I can put extra time and effort into it."
This optimism will not only encourage herself, but also the entire BU. Volleyball team, as a positive mentality, plays a huge part in a successful season.
In the same way, although COVID-19 has brought much stress and uncertainty to college athletes, Pamer gave her thoughts on how she can look at this situation as a learning experience, especially since this is her senior season, stating, "Going into my senior year I didn't expect any of this, but I am making the best of it. The main focus is keeping everyone safe and following all precautions. Everyone goes through life not knowing what to expect next and that is what this has taught me. Anything can happen and anything can change. We need to cherish the moment we are living in right now because you will never know what could come next."
Uncertainty in any situation is very frustrating, however it does not seem to have affected Leslie; who has cherished her moments as a collegiate athlete, and is looking at this situation as a valuable lesson, not only in sports, but in life as a whole. 
On the contrary, Pamer was also recently interviewed by Gretchen Stenger, a junior Media and Journalism student who hosts her own "Stenger Report" sports videos on Bloomsburg University Television's Youtube Channel. 
(Click Below to find Gretchen Stenger's "Stenger Report" Interview with Leslie Pamer, along with many more Husky Nation sports content and interviews, to stay up to date on all things Bloomsburg Sports.)
In this interview, Pamer mentioned that she is interested in possibly coaching high school volleyball after she graduates.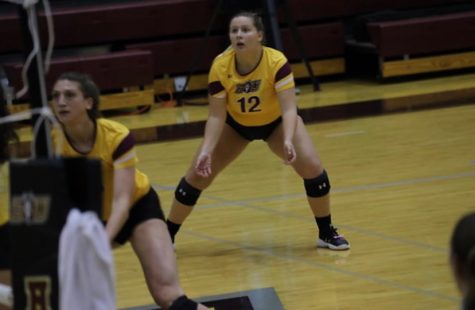 She was then inquired to provide some insight on how she will carry over her skills and strategies she's learned as a collegiate athlete, into her potential coaching career, declaring, "I have been an athlete since I could walk. I was raised to be competitive and coachable and I was raised to deal with any positivity or negativity that comes my way. I have seen a lot in my years of being an athlete and I can see what works and what doesn't work. Each athlete is different and I can't wait to make relationships with all my future players and help them not only become better athletes, but also better people overall."
Although Leslie's time with BU. Volleyball has been brief, she is a very hardworking, determined, and driven player, who loves her sport. When looking back on her collegiate career, Pamer reflected on some of her most memorable moments from playing on the Bloomsburg Women's Volleyball team, reminiscing, "I have had a short time with Bloomsburg University volleyball while being a transfer student, but I can most certainly say that more than enough memories have been made. This program is a family and I stand by that. From jamming out before games, to all the serious talks that needed to happen, every single moment I have made on this team matters and I could never just pick one."
Above all else, Pamer yearns to undergo one more successful season with her team in Spring 2021, and make a lasting impact on the Bloomsburg Volleyball Program for the better, as she concludes her collegiate career.