Small-Town Brothers Dribble their Way to Big Time Destiny
The year was 2014. The year in which Bloomsburg Men's Basketball introduced a name into their program that would change the outlook of the game, and hit the record books for the program's history, with one of the greatest athletes they've ever had.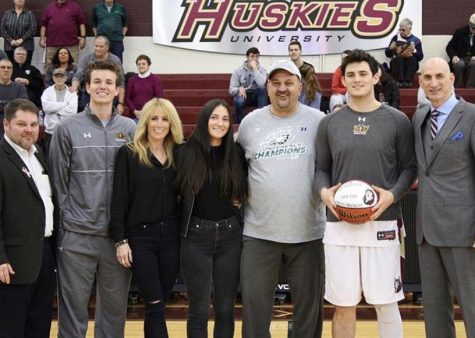 This athlete not only finished his Redshirt Senior season as the all-time leading scorer in Bloomsburg Men's Basketball history with over 2,000 career points; although if this alone were not already impressive enough, he also holds the school record for most points in a season (613), most threes in a season (110), most career threes (314), most career free throws made (441), most three-point attempts in a season (255), and most career three-point attempts (751).
This basketball stud also received two PSAC Freshman of the Week Honors, three PSAC Player of the Week Honors, the 2015-16 All-PSAC East First Team Honor, and the co-PSAC Eastern Division Men's Basketball Athlete of the Week Honor in 2018. 
This standout star is none other than Christian Mortellite, the 6-foot-6 Swingman (Guard/Forward) from Hammonton, New Jersey. After graduating, he later went on to play professionally in Portugal for Galitos-Barreiro in 2018-2019, and S.C. Lusitania in 2019-2020.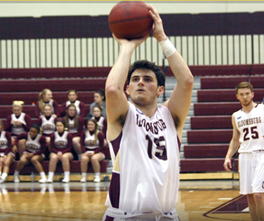 However before coming to Bloomsburg, Mortellite came from the small-town of Hammonton, New Jersey, where he brought a tremendous amount of success to his high school basketball team. In a town where football is the beloved sport, Christian changed these odds, helping to turn the program around and show athletes that you can still make yourself known playing basketball at Hammonton. 
When asked about who introduced him to the sport, and who his main inspiration was growing up, Christian noted, "I remember always having a ball in my hands watching basketball as a kid because my dad was a big basketball guy and my grandfather a great college coach, so I got to learn the game from both of them at a young age. That's what made me want to play basketball in college, I remember watching games at a young age and just fell in love with the game and everything about it."
The exposure to the game from such a young age certainly initiated the road to playing collegiate basketball, as Christian's natural ability along with his passion for the sport are ultimately what landed him a spot on the Bloomsburg Men's Basketball team. 
Little did he know hindsight 2020, that he would eventually play a big part in upholding a winning record for the Huskies in each of the seasons he played in, from his redshirt sophomore season to the end of his college career. Additionally, he averaged 20.5 points and 6.6 rebounds per game and recorded five double-doubles in his final season at B.U.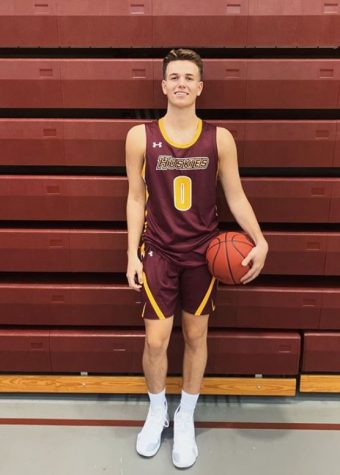 Needless to say, within the same year of Christian's Redshirt Senior season, his younger brother Peyton Mortellite joined the team as a Redshirt Freshman. In high school, Peyton was named First Team All-Conference and was the Press of Atlantic City Player of the Week. Additionally, he finished his career with 923 points and 180 career three-pointers, and holds the school record for three-pointers made in a season and in a career.  
When asked about the advice he gave to his brother before starting his first collegiate season, Christian indicated, "It was awesome to know Peyton was coming to school with me. It was amazing to be able to play college basketball and grow our relationship together over those 2 years. I just told Peyton to work hard and be himself. He is a great person, everybody loves Peyton so he fit in really well and I could tell he was happy to be at Bloomsburg. Even though I gave him a hard time on the court now and then. We had a lot of fun together!"
In his first collegiate game, Peyton scored a career high in points with twelve (12), and also combined with Christian for seven three-pointers within the first half of the game. He continued to contribute to the team throughout his collegiate career; and during the most recent season in 2019-2020, he averaged 6.3 points, shot 100% from the free throw line (18 free throws), and 43.3% from behind the arc (33 three pointers). 
Peyton was asked to give his thoughts on what it was like having the opportunity to play with Christian during his redshirt freshman season, exclaiming, "Although we only played 7 games together due to injury, playing with Christian was something that us and our family won't ever forget. There has always been a great connection on the court when we played in the summer, and bringing that to a collegiate basketball game was extremely fun." 
Likewise, Peyton also recognized how much he looked up to his brother as a role model over the years, and reflected on the many ways in which he has learned from him as an athlete. 
"Everything that I have done on a basketball court, comes from Christian. He was definitely someone I modeled my game after. I have always described Christian as my favorite player, and playing in college with him was a dream. But the most important thing I got to see with Christian was his competitiveness. He is the most competitive person I know, hands down. And seeing him apply that fire into his professional career is how I know he will do great things in life."
Unfortunately, Peyton's playing time for the Huskies has been limited, due to a number of shoulder injuries.  However luckily, this setback would ultimately work in his favor, as this has gained him two more years of eligibility, and an opportunity that he will most definitely take advantage of. 
With this, the shooting guard expressed, "Injuries have definitely played a large role in my college career. Having three shoulder surgeries, one would assume that it was a negative experience for me, when I look at it as a positive. Being hurt has allowed me to gain two years of eligibility that I am using to pursue my MBA here at Bloomsburg. It's also taught me more about myself than I would've known if I was healthy." 
Furthermore, while Peyton was undergoing rehab, he had much more time than usual to truly think about life in its entirety, rather than only focusing all his time and energy on basketball. 
He commented, "Having a lot of down time throughout each rehab process has allowed me to prepare for life after basketball. I'm sure Christian would agree, but when you're in season as a college athlete, you tend to get tunnel vision, and only care about basketball and schoolwork. This allowed me to look at things from a completely different perspective." 
Correspondingly, Peyton was asked to give his thoughts on what the next few years of basketball look like for him, and what his goals are for himself and team.
 "Within these next 1-2 years, from a basketball standpoint, the only thing I want to accomplish is to win games. One day at a time and one game at a time, just like my rehab process. I've never played on a winning team healthy, and being a senior, that is my only goal: Win. If this is my last year, I would want nothing more than to go out on top." 
Having these goals and high expectations for himself is a very respectable quality to implement as a collegiate athlete, as this is what kick starts rising to the challenge and becoming the best you can be. However this is not an easy task for anyone, athlete or not; considering that fundamentals, drive, and determination, are key factors that go into achieving an end goal. 
With that said, Peyton was asked how he plans on carrying out these desires for himself, and what his main motivation is to start each day right and perform to the best of his ability. 
"Being from Hammonton, New Jersey, a place that produces basically zero basketball players, being doubted coming here was something me and Christian both experienced. Having a chip on my shoulder, but in a good way, is something I need to continue to work hard every day. Being motivated and staying ready can be especially hard during COVID, but I have to get up every day and better myself, because as Coach Sanow says, "If you're not getting better, you're getting worse." 
Most importantly, at the end of the day, basketball has not only benefited Peyton on the court, but off the court as well. When asked about how basketball has shaped him into the person he is today, he emphasized, "I've used basketball as a tool my entire life, and will continue to do so. It has given me lifetime friendships and memories that I'll never forget. It has also given me the work ethic and mindset that can be used throughout my life. From the lowest of lows being injured for 2 years, to the highest of highs, from Hammonton to Bloomsburg, basketball has always been my muse, and I'm going to be sad to let it go."
Moving back to Christian's basketball career, he was asked to go in depth about how the many PSAC honors he achieved and becoming the all time leading scorer at Bloomsburg prepared him for his future endeavors.  
He stressed, "Basketball has taught me a lot about life, I was very fortunate to be around great people and great coaches from a young age and all the way through college with Coach Sanow and Coach Hamlin. They taught me a lot and helped me expand my game but also helped me grow as a person. I had so many great teammates through the years and learned something different from all of them. I think that is something that prepared me for life after B.U."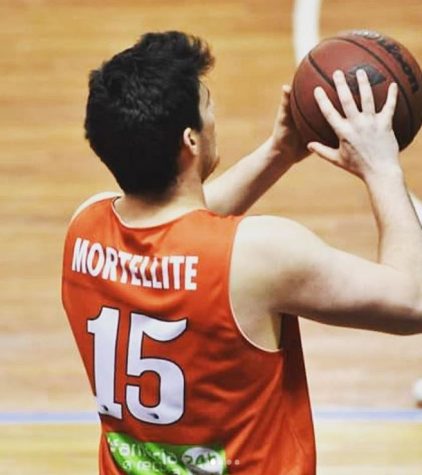 When arriving in Portugal to play pro ball, the level of competitiveness, team-bond, and overall dynamic of the game must have felt very different than the NCAA Division II basketball; not to mention the great deal of change that comes with moving to a different country.
C. Mortellite was not taken aback by these high standards, and put himself up for the challenge noting, "When I got to Portugal it was an adjustment at first, I got there late maybe 7 games in to the season out of 30, my first game I really didn't play well but that next week I got into my routine of living there and it was all up from there. I just continued to work hard and get better in practice and then I felt like myself on the court again. I have always been confident in who I am as a player, so I got into that rhythm on the court and the team finished the season strong!"
Accordingly, during the 2018-2019, C. Mortellite averaged 17.37 points per game (ppg), and 40.35% in three pointers. In the following 2019-2020 season, he totaled 14.2 ppg, and 47.69% in three pointers. Unfortunately after about a year and a half, C. Mortellite suffered a foot injury during his second season, and returned home to the United States.  Despite this disappointment, he still has high hopes that this is not the end of basketball for him. 
When speaking of his future plans, C. Mortellite mentioned, "I am considering coaching, I think maybe high school level, I wanna be able to help young players grow and understand the game better. But I definitely will consider coaching at the college level, that was always my dream as a kid. We will see how the next few years play out."
As for Peyton, being compared to his brother throughout his basketball career was not an easy pill to swallow, and he has done everything in his power to achieve and be credited for his own individual success. One might think that choosing to attend Bloomsburg with Christian would only make the comparisons worse, however this was not the case. Having the opportunity to play a few games with Christian during his redshirt freshman season, was a key component to gaining the confidence to chase after his own feat. As a result, when Christian graduated from Bloomsburg, it was Peyton's time to shine.
P. Mortellite pointed out that although it's great to follow in Christian's footsteps, he wants to leave his own legacy on Bloom basketball when he's finished his collegiate career, stating, "It definitely isn't the easiest path following Christian. Him being arguably the best player in both our high school & college's history, it is natural for people to look at me and say that I wasn't a success, but look who I'm being compared to! Hopefully, I can finish some of the individual goals I have been working towards. I'm on pace to be the all-time leader in 3-point percentage in Bloomsburg history, as well as finish in the top 10 in 3-pointers made. I currently have 29 free throws made in a row, and am 5 away from beating the current record. But as long as the team is winning games moving forward, that's the only thing I hope to accomplish. Everything else is meaningless. "
On a more tender note, for as long as they can remember, The Mortellite brothers certainly grew a strong connection, not only as teammates, but as brothers throughout their many years of basketball. 
When asked about how playing collegiate basketball together strengthened their relationship, Christian meditated, "I think we grew into best friends at college, we had our arguments but we had a great time having that experience together. We would fight in practice but then go out to eat at Scoreboard and everything was fine. We celebrated some great wins there together and I always remember him being there for me; so even though I'm not on the bench for him, I always try and support him and the team the best I can!"
Peyton also echoed this saying, "Us being 3 ½ years apart, it was difficult to be close once we got into our teenage years and Christian went off to college. Once I got to Bloomsburg, we became as close as ever. And after living together his senior year, it made it even better. I would definitely describe our relationship as being best friends."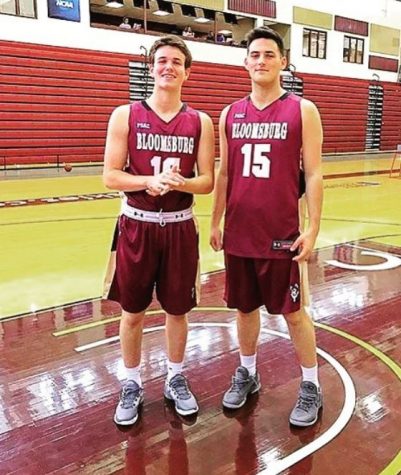 Everything said and done, the Morellite brothers reminisced back to the days of playing together, and gave their most memorable moments as a dynamic duo. 
Christian recalled, "I remember our first game together, we hit like 10 threes combined and had a bunch of assists to each other. But for me the best was having him on the sideline (when he was redshirted or hurt) he would always come to me during timeouts and give the best advice. He motivated me a lot out there and I was blessed to go on that ride with him and the rest of my teammates and coaches."
When looking back on his favorite memory, Peyton called to mind, "My most memorable moment playing with Christian would have to be at Georgian Court. It was the second game of the season, and I passed up a few shots. Christian gave me the look that meant "Next time, shoot it." I threw him the ball in the post, and he threw it right back, and I knocked down a 3 that sparked a nice comeback to win the game. It may not be something anyone would remember, but for me, it was huge."
Overall, the small-town natives from Hammonton, New Jersey have both achieved an abundance of accomplishments at Bloomsburg, and will continue to leave a lasting impact on the Bloomsburg Men's Basketball program as a whole.