VOTER REGISTRATION DUE OCT. 19
BLOOMSBURG – Attention Bloomsburg university students and fellow voice viewers; voter registration for the upcoming November presidential election will end this coming Monday, October 19th. Bloomsburg University's Civic Engagement Coordinator, Tim Penton, gave members some insight to help ease the voter registration process for anyone not yet registered.
If you are a Pennsylvania resident, all you need is your PA state driver's license/personal ID. For anyone residing outside of the state, you will need a social security number. If you are not yet eighteen and are turning eighteen before the November third election, your voter registration may still be completed, and your vote will be validated the day you turn eighteen.
You can go to www.votespa.com to complete the voter registration process, change your registration, or check your registration status. Pelton urges that online registration is the safest way to register if you have not already. Pelton also shared some helpful tips on how to go about the voting process after the registration is complete.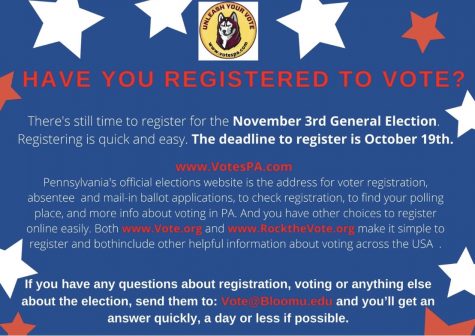 If you have used an absentee ballot to vote on any recent past election, it would be smart to use the same method for this election. Due to the circumstances with the mail-in voting for this election, tellers will be picky with the votes they count, and could throw out ballots from voters who changed their voter status, said Pelton.
Pelton also advises to check that your voter registration has been completed before applying to vote; it can be challenging to reapply without a completed registration.
After completing your ballot application, request your mail-in ballot and get it mailed in as soon as possible. Backups in the postal services in recent months have made up for a week's wait for mail-in ballots, and the October 27th deadline to request mail-in polls will not give you enough time to complete the process, said Pelton.
Pelton said he would like to clarify to all November voters that the election winner will not be determined in one day. Courthouses for each county in Pennsylvania will begin counting ballots at 7 a.m., and smaller counties, such as Bloomsburg, will likely have results by the end of the day.
However, larger areas such as Philadelphia could take multiple days, and other states are undetermined; some may be fast, some may take longer. It is imperative to understand that the determination presidential nominee will not be made in one day. This is not the first time there will be a wait for a winner in election history, said Pelton.