Bloomsburg to Remain Open for Spring 2021 Semester
Bloomsburg– Bloomsburg University will remain open for the spring 2021 semester beginning on Feb.1 only with new procedures to follow. Courses will be offered in a hybrid format, with COVID testing administered before the spring semester. Random testing will proceed throughout the semester and is free of charge to all students.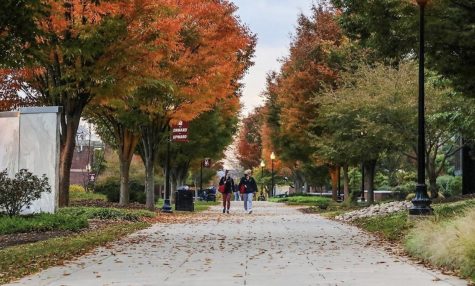 The decision to remain open spring 2021 semester came in with the university's help implementing invasive rapid COVID-19 testing for all on and off-campus students. 
"We did not have access to the testing at the beginning of the fall semester; our hope with COVID testing is to identify and slow the spread of the virus," said Tom McGuire, director of communication-media relations. 
Student Alexia Galloway thinks this new COVID testing is better for the university. Galloway said she believes the spring semester plan is very thought out and well organized in protecting the student's safety with COVID-19. 
"Honestly, I think the university is trying its best to accommodate all of the students' wishes while keeping our health and safety in mind," said Galloway. 
Many students struggle with whether they want to schedule all of their classes online and stay home or have a mixture of in-person courses and online courses and stay on campus. 
"I will be staying home, and I picked all my classes to be online for the spring semester because I think I would rather be in the comfort of my own home," said sophomore Ashley Vasquez. 
Students are not required to stay on campus for the spring 2021 semester, and BU will refund students any unused portion of their housing fees. 
"A student can adjust their schedule to best fit what works for them and their family. Students should work with their advisers on scheduling matters," said communications director McGuire. 
Although the campus is remaining open for the spring semester and the university is implementing COVID testing, the university will pivot to temporary remote learning if cases rise. 
BU President Hanna issued a joint letter sent to all students explaining that if the total number of cases among the BU campus community meets or exceeds 2% within three weeks, they will pivot to remote learning for two weeks until further notice. 
Many students are completely confused with what President Hanna and the University means by that 2%. 
"2% to me seems like a low number; I think we may pivot to remote learning very fast if it what I think," says freshman Alice Bandosalis. 
President Hanna or the University has yet confirmed what 2% means, with such a busy schedule closing on the fall semester. 
Before returning to the campus, students will be required to read and sign a statement of understanding that acknowledges the existence of COVID-19 and the expected student requirements. 
The university procedures then raised questions by the seniors on whether they will have a graduation ceremony this spring. 
"This is kind of scaring me. I'm hoping I can walk across that stage; this is one of the biggest moments of my life," said senior Khalil Nelson. 
"It is too soon to know what will happen with graduation in the spring. There are factors involved, such as is the virus being contained or is it still spreading, and what is the guidance from the PA Department of Health and the Governor's office about holding events such as gradation," says McGuire. 
There has not been a graduation ceremony date set currently, while the university will take their time and plan on the ceremony based upon the spread of the virus and PA Department of Health. 
As the campus will remain open for the spring semester, keeping students safe has been the university's best interest, and wants to remind students to make sure everyone is social distancing, washing hands, and wearing a mask.