Student Athletes Provide In-Depth Perspectives to Recent PSAC Updates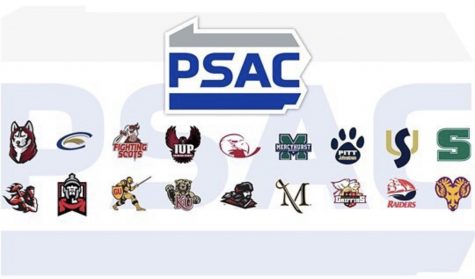 Surrounded by the Coronavirus pandemic, all of Bloomsburg's fall, winter and spring athletes have been subjected to monumental consequences and anticipations regarding the reinstatement of their seasons. 
On November 11, the Pennsylvania State Athletic Conference (PSAC) announced a scheduling update, concerning the cancellation of all originally scheduled fall sports likely to take place in the Spring.
"The Pennsylvania State Athletic Conference has announced the cancellation of all mandated regular season and championship competition for fall sports that were to take place over the 2020-21 season. The decision comes following a majority vote of the Board of Directors which consists of the 18 presidents who reside over each of its member institutions." 
Regretfully, as a result of this news, Redshirt Junior, Cameron Young who is a Defensive Back for the Huskies Football Team, is directly impacted and will no longer undergo a football season.  In spite of these unfortunate circumstances, Young was interviewed prior to this news, and yet still provided valuable insight relating to the effects COVID-19 has had on his experience overall.  
Before the cancellation of the football season, Young was asked about how he was personally preparing, and if he trained differently because of COVID-19 and its many repercussions. He remarked, "I have been running, lifting, and doing field work drills. Before we could work out here on campus, I was working out at my home gym. This summer my dad and I built a gym in my garage to best replicate the weight room we have in Nelson. I was fortunate I was able to accomplish that, so my strength did not decrease. I was running the streets and the countryside, and fortunately my high school field was open, so I was able to use the facility. After the semester ends, I will be going back to doing what I did this summer in my home gym." 
With this, Young did everything in his power to maintain a well-balanced workout regimen, and remained in the best shape possible over the summer, before returning to campus in the fall. On another note, Bloomsburg was held responsible for enforcing social distancing protocols when opening up their sporting facilities, for their athletes' workouts and practices. 
When asked about the specifics of these regulations for football, Young commented, "Since the beginning of October, team workouts were able to be held in the fieldhouse weight room and on the field. The weight room workouts are more aerobic than strength, meaning that we are doing more body weight exercises than weightlifting. This limits the sharing of the weights, so the spread of the virus decreases. On the field we can work out with our position groups with about 6 people per group. This allows us to social distance and be able to get a good workout in. Masks must always be worn." 
Despite many disappointments, the Bloomsburg Football team has not lost hope, and has upheld a positive approach for the future of their team. Just last year, the Huskies finished their season one game below .500, and had great expectations to turn that around in the 2020 season. Likewise, in December of 2019, the BU football program announced the hiring of new head coach, Frank Sheptock, who has yet to undergo a game at Bloomsburg, due to the pandemic.
In this regard, Young gave his thoughts on the overall attitude and dynamic of the football team currently, and how they are making the most of the unexpected turn of events.  
"With our season being cancelled, the team is eager to play a game. Everyone comes ready to work when we step in the weight room or on the field . . . . We are getting stronger physically and mentally so that we can obtain our goal of a PSAC championship."
As a result of the COVID-19 outbreak, sports all around the globe were brought to a halt, leaving athletes a substantial amount of "down" time away from their sport. This could not have been easy, as many collegiate athletes have been playing since their childhood, and have formed a strong athlete mentality over the years. Young is a prime example of this, and has since reflected on what he has learned during his time off from football this year. 
He expressed,  "Being away from football has been a rough time. I have played this sport for 16 years, so this year felt different. Since being at home, I have learned that family is a huge part of my life. We kind of take for granted what we have in life. My parents made a lot of sacrifices for me so that I am able to get a high level of education and be able to play football at the collegiate level. Not many people are able to do that and we are truly blessed as student athletes. Being away from my football family was the toughest part about quarantine. I love my coaches and my teammates." 
Another Bloomsburg athlete whose season has been very much affected due to COVID-19, is sophomore Christian Gannone, of Bloomsburg Wrestling. Similar to fall sports, the PSAC also reported the cancellation of all winter sports for the 2020-2021 season on November 18. 
"The Pennsylvania State Athletic Conference has announced the cancellation of its mandated regular-season and championship competition for winter sports following a vote of the league's Board of Directors."  
Regardless of this, Christian was also interviewed preceding this knowledge, and spoke of the ways in which he trained throughout the entirety of the summer and fall. 
He indicated, " I have been trying to get in shape and stay in shape the best I can. I go on runs and have done a lot of weight training over the summer at home, but there is only so much to do outside the wrestling room." 
Additionally, with the time away from his sport, Gannone has been compelled to shift his attitude and mindset, since normally at this point, he would be in the middle of the wrestling season. Understandably, this has not been the case during the atypical year of 2020, which has forced Gannone to look at things from a new perspective and maintain optimism, despite the obstacles at hand.
He acknowledged, "Having an off-season is always nice, it's a good time to have some time off, but after awhile I want to get right back into the groove of things and start pushing the pace again. By this time, I would usually be preparing for matches and have been wrestling for months, so it definitely feels out of the norm not wrestling yet." 
Similarly, the hiatus to the wrestling season has taught the sophomore from Manorville, N.Y. to remain accountable for his training schedule as best as he can. 
He noted, "With such a long break in between seasons, I have learned it is easy to become lazy, but at the same time, laziness is far from my personality. I got used to having a lot of down time which I never usually had, but it didn't feel normal to me, so I started mapping my day out to get in some extra workouts and keep myself busy."
On the contrary, one spring athlete whose hopes still remain high for the commencement of the 2021 season, is Balee Leeser, pitcher and infielder for Women's Softball. The senior from Sunbury, PA has made thirteen pitching appearances throughout her career with the Huskies, and has an overall 5.68 ERA, with 24.4 innings pitched. As the 2021 season draws closer, Balee is crossing her fingers that she will be able to experience her final season as a member of the Bloomsburg softball program. 
 When prompted to share the ways in which she has trained during the pandemic, and how she's made the most out of an unfortunate situation, Balee stressed, "Personally I am training for both conditioning and positional work. Sadly, due to COVID, I am not able to do everything as I normally do, but I am doing the best I can, due to the circumstances." 
As for the training regimen of the women's softball team as a whole, Leeser recently confirmed that they have been cleared to hold workouts and practices, in accordance with Bloomsburg's social distancing guidelines. 
She emphasized, "After we were given permission by the university, we were able to hold practices and have workouts. We have protocols in place that we must adhere to in order to keep everyone safe. We have to wear a mask throughout the workouts, and get screened at the beginning of every workout. In addition, before we show up, we have to fill out a COVID screening on an app that discusses if we have any symptoms or not. We also do a lot of sanitizing after use of equipment." 
Over the past two years of 2019 and 2020, the women's softball team had a combined record of 38-23, before their season was brought to an utter standstill last March. This winning record serves as a great reminder for the Huskies to remain confident in their ability to work as a team, and sustain a winning attitude going into the 2021 season. 
Consequently, Balee also provided her impression of the team's frame of mind approaching the spring, and enthusiastically articulated, "Our attitude is very eager. After our previous season got cancelled, we are all hoping for the best in the spring. Since our season last year was cancelled, it came to a point where we were grateful just to be allowed to practice again this fall. We all want to work hard in hopes that we can play this coming spring." 
All in all, time away from softball has given Leeser the chance to take a step back and truly reflect on her time as a student athlete, not taking anything for granted. Above all else, this is not only an important learning experience relating to softball, but also an extremely valuable lesson that can be applied to any hardship faced in life. 
She highlighted, "Time away from my sport has taught me to be more grateful for everything. We all know our careers will end eventually, but when it is sudden, it brings everything into perspective and makes you realize how fortunate you are to be a student athlete. If anything, it has taught me that even if I am having a bad day, to show up and put in my best effort, no matter the circumstances." 
Ultimately, until an official decision is released, all of Bloomsburg's spring athletes must remain optimistic for the restoration of their seasons in 2021.