BU Student Battles Bookstore Prices
A Bloomsburg University student opens up a complementary alternative to high priced college textbooks.
BLOOMSBURG, PA. – College textbooks are a financial burden. Especially with the addition of tuition, housing and added fees. While they are expensive, textbooks make or break students' success in the classroom. They are the last required purchase before classes start, and some students simply cannot afford them.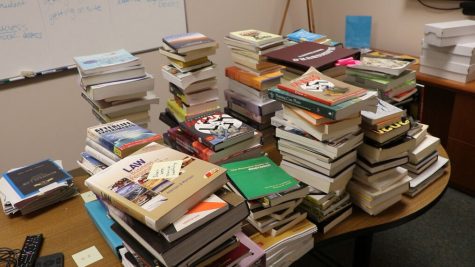 Cameron O'Neill, a Bloomsburg University junior dual major in Philosophy and Spanish from Wapwallopen PA, has opened a BU Book Pantry. She has the ultimate goal of lessening the expenses for her current classmates. 
Instead of discarding used textbooks, they could be passed on to someone who is enrolled in the same course at a later date. Most textbooks are used for the duration of the course, then forgotten. With the BU Book Pantry, these textbooks can be of use to future students. 
O'Neill got this idea in her freshman year, during her Philosophy course. With midterms approaching, she came to the realization that many of her classmates were without the three required course materials. When she dug deeper, she uncovered that they were not able to afford the class text along with their other courses required textbooks. 
"I lent them my textbook when I could, but it wasn't enough to ensure that they still passed the class," O'Neill explained.
While she was willing to help out the best she could, she knew there was a problem to be solved here.
"So far 250 books have been donated, roughly around $12,000 worth of college level text," she said. 
Nine books have been lent out to college students since the origin of The BU Book Pantry. O'Neill aspires to have many more going out throughout the duration of this school year. 
The BU Book Pantry is located in The Andruss Library on Bloomsburg University's campus. Lenders are free to donate in person and college students in need of textbooks can email [email protected] or enter their needed text in the "BU Book Pantry" google form.
O'Neill hopes this legacy lives on and that the idea inspires other universities to adapt the same methods.
"College textbooks are not just overpriced at Bloomsburg alone, but at every other university as well," O'Neill stated."
When asked if there was anything she would want the public to know about her hard work, O'Neill had a heartfelt sentiment to the help and influence she got along the way. 
"It started off as just an idea in my bedroom. It would have never transpired into what it is today without the connections and resources I had available to me. I of course put in so much work, but just hearing that I am helping people is enough of a reward for me."
Visit the BU Book Pantry today and see if they have what you are looking for!