Men's Rugby Ready to Rumble
 After a year lost to the global pandemic, the Men's Club Rugby squad is motivated to turn some heads during the 2021 season.
In their 2019 fall season, the Huskies finished with a record of 1-2-1. With 18 returning players, the team looks to build chemistry and improve. "I'm feeling good about our returning players and new recruits," club President Ben Watton said, adding "its a big part of our social life; its more than a sport."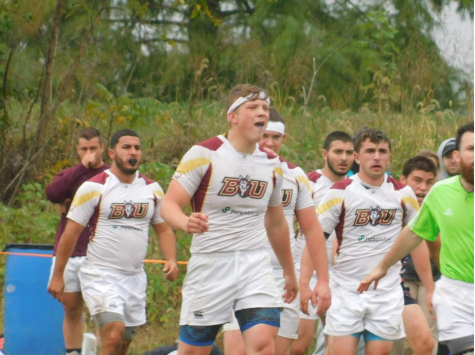 The dedication to improving starts with Watton. Last spring he played for the Wilkes Barre Breakers to help stay in shape. He hopes his leadership example can channel that same work ethic through the rest of the squad. The team currently practices three times a week with Friday walk throughs to help them get ready for any challenges they will face.
With the gap year affecting rosters across the league, the Huskies will be seeing new faces across the pitch. Despite the uncertainty surrounding matchups, the Huskies aren't concerned. When asked about how the year off from competition will affect gameplay, veteran player Hayden Clifford said, "Every other team is in the same boat. I'm just looking forward to putting work in and outside practice." 
The Huskies also have new faces in leadership roles heading into the new season. Despite losing some key leaders, the team is not looking back. "I just want to come out swinging and surprise people," said Clifford.
 When asked what particular matches the team may be looking forward to, Watton noted "I can't wait to play Shippensburg. They disrespected us two years ago, so we're looking to flip the script."
 The Huskies open their "15's" fall season when they host York College on September 9th. For the full schedule and team updates, visit their Instagram page @bloomsburg.rugby.