BU Women's Soccer En Route to Excellence
One full year after the COVID-19 pandemic brought cancellations to fall athletics in 2020, the Bloomsburg Women's Soccer team is finally back and more prepared than ever to take on the 2021 season.
Under head coach Matt Haney, the Huskies are predestined for greatness in the PSAC East. In 2019, the Huskies were 18-3-1, and made an appearance in the Elite 8 of the NCAA Division II playoffs. However, in 2021, Bloomsburg Women's Soccer is looking to go all the way, and not only win the PSAC East, but also play in the National Championships. 
In reality, Bloomsburg was voted to win the PSAC East in the league coaches' preseason poll, and will closely battle West Chester, East Stroudsburg, Millersville and Kutztown this season, who were voted to finish in the top five. West Chester is coming off a 14-6-2 record in 2019, and made it to the Atlantic Region Final, where they were eliminated by the Huskies. As for East Stroudsburg, in 2019 they finished with a 14-7 record, and were eliminated by Millersville in the first round of the playoffs.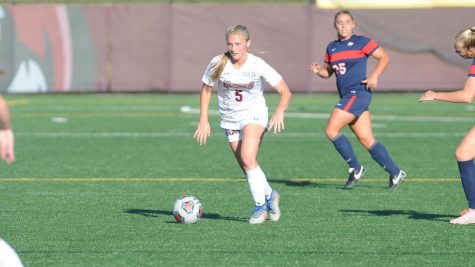 As a whole, the PSAC East is looking to be in close contention in 2021. In addition to this, women's soccer hasn't been played in over a year due to the pandemic, and a great deal is at stake in regard to the competition this year. 
Consequently, as the season quickly approaches, what are the Huskies expectations going into the long-awaited season, and how will they meet or even exceed their goals?  
In an interview junior midfielder Kylie Schwab (Lewisberry, PA) stated, "As a team we are constantly competing and pushing each other to get better and better every single day on and off the field. We are using every second we have to get better to prepare for the upcoming season. We are so excited to finally compete against someone other than ourselves."
It is highly critical that the Huskies are more equipped than ever going into this season, especially with the competition heating up expeditiously. Most significantly, it is vital that the girls work together and grow their team's chemistry on the field, as this ultimately brings more productivity during games.  In this way, each team member needs to understand what every individual puts forward, and work to maximize their strengths and minimize weaknesses, as one unified team.  
Similarly, midfielder Emily Clauss, the redshirt junior from Scranton, PA exclaimed, "I think in preparation for our new season, we are setting a really high bar for ourselves at practice and in our pre-season matches. I think something we do really well as a team is identify our issues and find a solution to them, and then implement those solutions at practice."
When asked how an entire year off of competition may affect the team, Clauss remarked, "In response to COVID, obviously all the fall sports in the PSAC are going through the same thing, so there's really no excuse to blame anything on COVID-19… But as a team I think we understand that we need to sharpen our basics because that's what we can control, and that's what we're doing."         
Likewise, leading the Huskies in the 2021 season are seniors Nicole Varano, Paige Harris, Helen Flynn and Kate Schlotter, as well as redshirt juniors Emily Clauss, Keira Flanagan, and Kimmy Bucher. These girls all need to step up to the plate, and display leadership skills to the rest of the team, especially since a big portion of underclassmen have never competed in outside competition before.
 Senior forward, Nicole Varano (Mt. Carmel, PA) expressed her thoughts on this stating, "This season is just so unique because almost half of our team has never experienced a championship season before. We are focusing a lot on just teaching the underclassmen our system and working to balance athletics and academics. Our expectations are just taking things day by day and getting better each week with a goal of still playing into December.
Varano has appeared in 43 games in her career, with 12 goals, 9 assists, 33 points, and a team high of seven game-winning goals.  Varano is also a 2019 first-team all-conference selection and All-Atlantic First-Team member. Above all else, as a senior, Varano reflected back on her years playing for Bloomsburg Soccer and gave her thoughts on how she is going to make the most of her final season. 
 She reminisced, "This year I am going to really just appreciate and enjoy every step of my time here with the team because as we saw last year how quickly it got taken away from us. Most of my favorite memories from the past three years have been with my teammates on or off the field, so I am going to cherish every moment I have left." 
Another negative impact COVID has had on these athletes, is that they have not had the opportunity to play in front of their devoted fans since the 2019 season. However long at last, fans will be permitted to spectate at games, as long as they comply with the health and safety measures of Bloomsburg University.  Kylie Schwab excitedly commented, "Having fans at our games is something that I think motivates us as a team. Seeing our friends, family, classmates and other sports teams in the stands is something we look forward to every game day… Seeing them so happy and excited reminds us how important we are to them, and the impact we have on the community." 
The Huskies kick off the 2021 season, as they travel to Goldey-Beacom College on Thursday, September 2, at 1:30 PM. Ultimately, the stakes are high, the water is rough, but with strength, determination, and leadership, the Huskies are favored to take the PSAC East crown, and hopefully compete in the National Championships.