Shaffer Show Stops in Net Throughout 2021 Season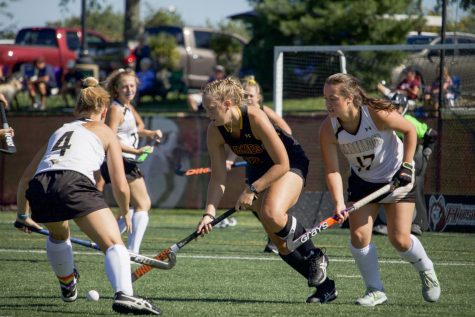 The Field Hockey game dragged on, as the Bloomsburg Huskies and Mansfield Mounties looked to close the door and earn the hard-fought victory. The score was tied 2-2, when the overtime clock ticked down to zero. It was time for a highly pressured shootout. Bloomsburg Goalkeeper Abby Shaffer (Harrisburg, PA) nervously made her way to the net, who ultimately held the fate of her team in her stick.
Mansfield put pressure on the Huskies, however Shaffer was able to hang on, and save the first three shootout attempts. In Bloomsburg's second to last attempt, forward Alicia Carr made an epic goal, and gave the Huskies a chance to take the win. At last, Shaffer only had to save one more shot. As the speedy attempt came in on net, Shaffer made the diving stop to give her team the W.
Shaffer remarked, "I'm not gonna lie for Mansfield, that was my first time ever doing a shootout in a competition game throughout high school or college, so I was very nervous; but I had faith in my teammates and faith in myself that we could pull through and get the job done…so it was really just so cool to experience."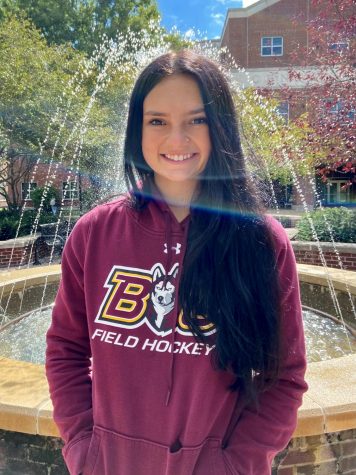 In the game, Abby had her career-best 15 saves and stopped all five shots in the shootout. Likewise in 2021, #79 has 32 saves, a 0.780 save percentage, and an overall Goals Against Average of 1.28, which is 13th in the NCAA.
Despite her outstanding effort in the game vs. Mansfield, the goalkeeper showed immense support for her teammates, and expressed, "People say that I saved the game, but that's just not the case. My team won that game from the offense, from the midfield, from the d4defense, to me, to the people on the sideline, to our coaches, to our fans, we won that game, and it wasn't just an individual effort, it was completely a team effort….I don't want to take full credit for that game at all, because our team deserves to be celebrated as a whole because we're family, we're not an individual player."
Teamwork and encouragement play a huge role in collegiate sports, as it pushes each and every person to gain confidence in themself and their team. The Bloomsburg Field Hockey team most definitely demonstrates this quality, every time they step onto the field. From the stands, you hear constant cheers from the bench shouting, "Come on BU, let's go Huskies!"
Shaffer commented on this saying, "I honestly think our team is so motivated and so hard working…and you can see how much from the sideline, from the field, from the fans, you can see how much we encourage each other, like we're really such a team, that I think the team and family aspect really pushes us to be the best we can possibly be."
Last week, the goalkeeper from Harrisburg was also named the PSAC East Defensive Athlete of the week, for her outstanding performances vs. Mansfield and Lindenwood.
Shaffer also remarked on her game plan going into a recent matchup. "I try to go into the game with the same mindset that I do, no matter who I'm playing, if it's a PSAC or non-conference team, because anything could happen, like you never know. It could be a major upset, or it could be just a really tough game… and you have to go with the same mindset no matter what… I'm gonna put my heart out, and I'm gonna play to the best of my ability, as much as I can."
This season, the Huskies are ranked 10th in Division II, as reported by the recent Penn Monto/NFHCA National Poll. They are currently 5-2, and 1-0 within Conference play. If they are able to uphold this upward momentum, they will be on track to achieve a winning season for the first time since 2018.
Shaffer also detailed her personal goals for the rest of the season. "I think my personal goal is to push myself to be the best teammate I can possibly be, whether that is my skills on the field, to the teammate I am at practice and in the locker room or in games… There are three other goalies on our team, and I think we have such a close-knit family with that, and we encourage each other, and push each other to be the best person we can be."
Ultimately, with Shaffer's optimism, competitiveness, and ability to be a team player, the Huskies have a high chance at bringing home a PSAC East Championship in 2021. BU will hit take on Kutztown on the road, this Wednesday, September 29th in a PSAC Conference matchup.