Short Staff, Long Lines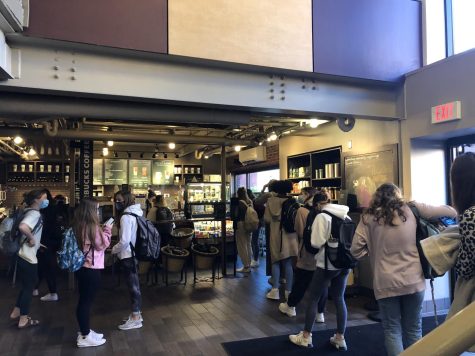 Bloomsburg University faces a drought in staff members throughout dining services on campus this 2021 Fall semester, causing long lines and persistent confusion among the students. Dining administrators suggest a solution to this issue by providing easy access to job opportunities on-campus.
Based on recent times, BU is encountering a shortage in staff members, specifically in the dining department. Students this year are scurrying around campus to outrun the long lines and reduced operation times of the dining locations.
Jim McCormack, Associate Vice President of Student Development & Campus Life, confirmed via email that, although there are plenty of efforts to encourage employment opportunities on campus, students and community members are uninterested in applying and staying in these campus jobs.
Many students are also concerned by the operation times on campus, the most common place being Starbucks. Senior Hannah Appleton, dual majoring in Criminal Justice and Sociology, admits that with her class schedule, picking up a coffee from the only open Starbucks on-campus is near impossible due to the hour she'd spend waiting in line.
Ireland Brennan, a freshman majoring in Computer Science experiences the staff shortage firsthand. With a daytime full of classes, Brennan usually only gets to the dinner operation hours at The Scranton Commons. "I think they need more food chains… Commons can only provide so much," she said in an in-person interview.
Marketing Manager of Aramark, John Scheers, gave a glimpse of what is going on behind the scenes; though the situation seems drastic, there is an explanation for this commotion. Scheers concluded that there is a current supply chain problem that is causing shortages in not only staff, but food supply. From this information, we can assume that not only Bloomsburg University is running into a faculty frenzy.
Fortunately for students, there are many job opportunities available on campus. For those who are looking for an extra-curricular occupation, it is advised that the easiest way to help out with the labor shortage issue is to simply ask for a job application in person.
If reaching out in person isn't convenient, going online to the Bloomsburg University Dining Services website and hitting the "contact us" button will lead you to John Scheers' email address where you can request an application or express interest in applying for an on-campus job.
As for a long-term solution, the staff shortage is expected to only be temporary as companies are bouncing back from the harsh hit of the novel Covid-19. The dining services at Bloomsburg University are prioritizing getting back to full staff for maximum dining locations to re-open. As more staff come back, more venues will open.