Women's Basketball Stomps Millersville 73-34
Huskies have won 9 of last 10 games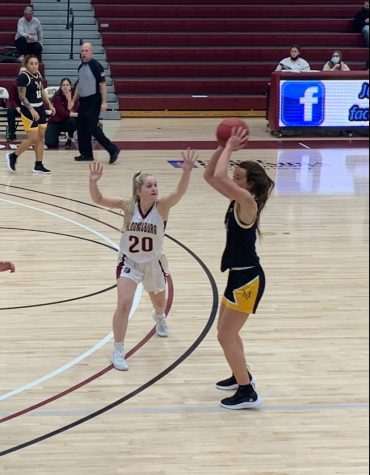 It didn't take long for the Women's Basketball team to get back into the win column. Lockdown defense led to plenty of scoring opportunities as the Huskies stomped Millersville 73-34 on Saturday.
The Huskies opened the game with a 7-0 run and never looked back. After trading baskets with Millersville midway through the first quarter, the Huskies went on another 8-0 run to close out the quarter with a 21-9 lead. The Huskies excellent ball movement and communication lead to another 18 points for the second quarter. The Husky attack was led by Meghan Corrindoni (Exeter, PA) and Emma Saxton (York, PA) who each had team-high 13 points. The team had a 39-24 lead going into the half.
In the second half, the dominant Husky defense forced turnovers that created points on offense. Millersville scored 0 points in the third, while the Huskies added another 19 points, most of which came off turnovers. The defense recorded most of their 24 turnovers and 14 steals in the second half and scored 27 points off turnovers.
The crowd and team bench were hype as the Huskies scored 13 fast break points. Players on the bench were helping keep the team motivated, cheering "D up!" on defense. "We're such a defense-first team and everyone is a team player" said Saxton when asked about the team chemistry, adding "We cheer each other on regardless of how much we play." The chemistry was on full display on both sides of the ball. The Huskies communication skills led to lockdown defense and efficient passing on offense.
The starters were pulled in the third quarter and the Huskies continued their dominance, adding 33 points off the bench. Nelson Field House was bumping as the Huskies cruised their way to a 73-34 win.
The Huskies improved to 13-8 overall (11-4 in PSAC East) and have now won 9 out of their last 10 games. The BU offense shot 50% from the 3-point line and out-rebounded Millersville 41-16.
The Huskies will be back in action on Wednesday when they travel to Mansfield.