Kilgallon Kills Her Way To 100 points
The score to the lacrosse game was tied 2-2 in the first quarter, on a crisp, partly sunny Saturday afternoon in Shepherdstown, West Virginia.  The Shepherd Rams fouled, which gave the Huskies the advantage in the deep offensive zone. All of the sudden Bloomsburg scored, making the score 3-2 in favor of the Huskies. Point number 99 down, one more to go.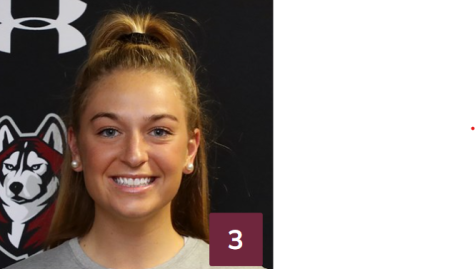 Bloomsburg carried their momentum into the second quarter, as they quickly found their way into Shepherd territory. The pass from veteran Kelsey Kilgallon (Spring City, PA) was smooth to freshman Annie Rollins, who successfully scored, making the score 4-2. Screams from Husky fans filled the stadium, as Kilgallon just scored her 100th point of her career.
When asked what this accomplishment means to her, Kilgallon exclaimed, "It means that everything I've done up to this point is validated… and it makes me more confident. It means the world to me because I've been working so hard."
Kilgallon is a senior attacker for the Huskies, who finished Saturday's game with five goals and one assist. Throughout her career, she has scored sixty goals and 40 assists. Due to COVID, Kilgallon lost a year of play, making this milestone even more rewarding to achieve in three years. Additionally, the attacker earned the All-PSAC Second Team Honor in 2021.
Kilgallon comes from a lacrosse family, as her siblings also play collegiately. Growing up, she started playing the sport in kindergarten, and her extended family all played for Division 1 schools. Earlier this year Kilgallon had the chance to play against her sister, Maggie Kilgallon who plays for Indiana University of Pennsylvania.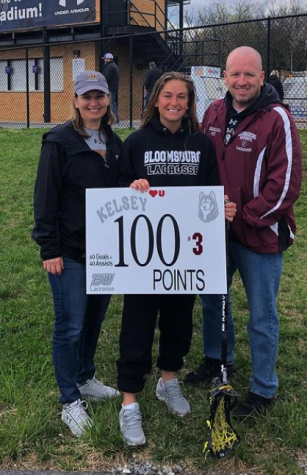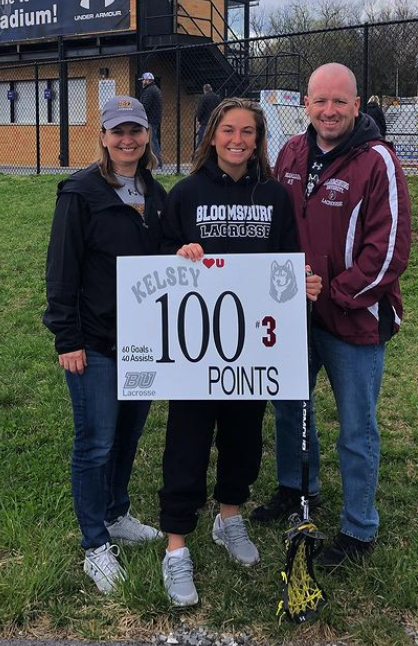 Kelsey gave her thoughts on this saying, "It was competitive leading up to it… It was really emotional just playing her because I've always played with her and not against her. I definitely was like put number 2 on the ground. Our entire extended family was there, and it was really fun."
As a whole, Bloomsburg's offense is stellar this season, with Kilgallon playing a major role. The team is number one in the PSAC in offensive stats. Kelsey commented on this saying, "My team expects me to be a leader and be that person they can rely on. I feel like I could either make or break a game and feel all the pressure… It motivates me to do better for my team because I know that they need me."
Kilgallon also spoke about how much she likes the pressure, explaining that the better the team she is playing, the more it motivates her to perform to her best. She also spoke about how the team is very close on and off the field, and always wants to be around each other. "There's more emotion and relationships behind the team, rather than just lacrosse," said Kilgallon.
Lacrosse holds a special place in the heart of Kelsey, who reminisced on how the sport has shaped her into the person that she is today. "I definitely have learned life skills. Also, lacrosse has been such an outlet for me. I'm not good at school at all, but lacrosse is something I love and that I'm passionate about. I do it when I'm stressed out and anxious… It's something that I feel like is the only thing that I'm good at."
Kilgallon achieved an outstanding career at Bloomsburg and hopes to continue her lacrosse career as a coach someday. The senior is graduating in May, with hopes of becoming a labor and delivery nurse in the greater Philadelphia area.