A Look Back on Bloomsburg's 1991 Women's Lacrosse Team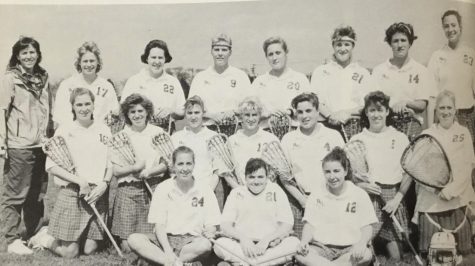 The Bloomsburg University Women's Lacrosse team has won four Pennsylvania State Athletic Conference (PSAC) championships throughout their 45-year program history. Their first PSAC championship in 1991, was possibly their most interesting title run.
By the time the 1991 season rolled around, the Huskies had made the PSAC playoffs five straight years. In those five seasons, they had a combined record of 27-19, increasing their win total every year.
The 1990 season ended in a particularly bitter fashion. Ahead of their final two regular season games they were 8-2, when their star goalkeeper Ruth Doyle broke her hand in practice doing a goalie drill involving dodge balls. This put the team in a tough spot as Doyle was the only true goalkeeper on the team. For their final regular season games, the team cycled out different defenders in practice, trying to find someone to replace their injured star. They dropped their final two games with defenseman Nicole Chevello of the season and were bounced in the first round of the playoffs.
This ended up being a hard pill to swallow for Doyle, saying "When you feel like you're at the top of your game and something happens like that, there is a little insecurity there, coming back." Luckily the injury didn't linger for too long, as Doyle was able to start in the season opener of '91.
Cathy Samples, Bloomsburg's leading scorer in 1991, said this about Doyle's junior season injury, "I think that was a big reason we lost our junior year, I really thought that was the year we'd make a run up until Ruth broke her hand."
Sharon O'Keefe or "Sok", as some of her players called her, was described by her former players as "easy to talk to" and "down to earth". It appears O'Keefe prioritized team building and chemistry. Always getting the team together to do different things.
Goalkeeper Ruth Doyle had this to say about O'Keefe:
"I think O'Keefe was really dedicated to lacrosse, she hated losing and even brought in alumni goalkeepers to help me in separate one-on-one practices."
Doyle would go on to add that O'Keefe often set up separate practices for her with alumni goalies.
Kelly Bracken, Bloomsburg's leading scoring in 1992, looked back on O'Keefe's coaching style, saying "She was a really great motivator, and we had a lot of fun… But I think we were so motivated to work hard in practice because it didn't feel like practice most days."
Cathy Samples also shared her thoughts about her former coach, saying "She was very easy to talk to in any situation other than after a loss. When we lost games, she would give the whole team the silent treatment."
She went on to add, "If we lost an away game no one wanted to be in the coach's van. I think it was a motivational thing for her, but it did rub me the wrong way."
During the months leading up to the '91 season there was a big snowstorm. O'Keefe decided that it would be a fun team-building exercise for the girls to go ski on the field. So, she got the nets out, and rented a bunch of cross-country skis. She gathered her team together and they tried to play lacrosse on skis.
During the spring break of the '91 season, O'Keefe organized for the team to spend the week in Bermuda. They practiced in the morning at a college and then ate lunch on the beach then back to practice in the afternoon.
Looking at the PSAC Championship playoffs in 91, they played Millersville in the semi-final, who were their biggest rivals at the time. The Huskies won the game 8-6 and Cathy Samples led the way in scoring, tallying one goal and two assists.
"I remember how good it felt to beat Millersville in the playoffs that year. They were the ones who beat us the year prior, and we rallied behind that the whole week leading up to the game." Samples recollected.
After they beat the Millersville Marauders, the '91 Huskies went onto the PSAC Final where they played Lock Haven. This game was a real "tug-o-war match" according to Bracken, and the match came down to one crucial save by Ruth Doyle.
With a one goal lead late in the game and no shot clock, the Huskies decided to stall.
"All I remember from that game was me telling the rest of the attack 'Lets pass it around, burn the clock.'" Samples recollects, "Next thing I know we turned it over in their crease and they were breaking out."
"It was one on one breakaway; I remember her sprinting up the field towards me and she took a shot, and I blocked it. I scooped it up and cleared it down field and a few seconds later the buzzer sounded" Doyle recalled.
Samples added her perspective of the save,
"Ruth saved that shot and cleared it to me and I got it for some reason and just chucked over towards the cliffs at Lock Haven."
When looking back on their first championship season, Ruth Doyle said, "I was a senior, and we had made it to the playoffs every year I was there… I think knowing that it was going to be our last season of lacrosse, Me, Cathy, and Beth really gave it our all."
She later added "Going out on top like that was just so amazing, and I think the fact that we were always so close made it that much sweeter."