Huskies Fall to West Chester, Snapping Eight-Game Win Streak
            The Huskies couldn't find the back of the net in their latest match-up with West Chester, losing 1-0, marking the end of an eight-game win streak for Bloomsburg. The Golden Rams seem to have the Huskies' number lately, beating Bloomsburg's Men's Soccer team in their last five match-ups. In fact, the Huskies' only two losses in the conference are at the hands of West Chester. 
            After their second loss to West Chester of the season, Bloomsburg sits atop the PSAC East with a record of 12-3-1 and a conference record of 7-2-1. The Huskies propelled themselves to the top of the conference, winning eight straight games, including a notable win over Millersville and one against East Stroudsburg where they tied their season-high of 6 goals.  
            During the win streak, the Huskies' offense had a balanced attack, having ten different goal-scorers in that span. Mid-fielder Stephen Hollis had quite the run of games during the streak, scoring nine points in eight games, with four goals and five assists. Forward Anthony Schlee also played great in these games, scoring three goals, and assisting on another three. During this stretch, Bloomsburg's Goalkeeper Brady Rimple was even named PSAC East player of the week.  
            The Huskies averaged just under 3 goals a game during the win streak but were iced out by West Chester in a shutout. West Chester is the only PSAC East team that the Huskies have not beaten this year, and they may have some things to figure out come post-season time. The Huskies have struggled against this Golden Rams team for quite a while now. The Rams have been victorious over the Huskies in their last 5 meetings, dating back to November 6 of 2019.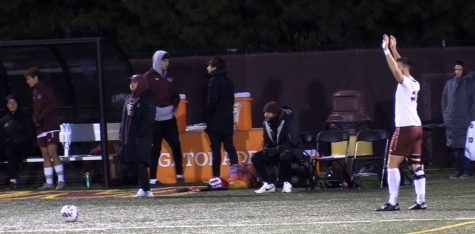 Bloomsburg has two games remaining of regular season play. They are set to play Shippensburg on Wednesday and Millersville on Saturday. If they can win both games they will finish first in the East and have a first-round bye come playoff time. However if West Chester wins both of their remaining games and the Huskies lose one, they will play either Millersville or East Stroudsburg in the first round.  
            The Huskies will be in action this Wednesday at Shippensburg as they take on the 0-6-4 Raiders.