From the Field to the Sidelines: Natalie Holmes First Year Graduate Assistant Coach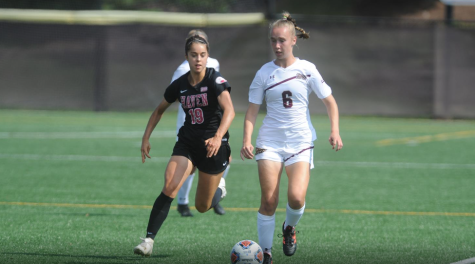 The Bloomsburg women's soccer team was under immense pressure in the PSAC championship game vs. Millersville University last November. It was scoreless with just two minutes left to play in the second half. Graduate student Natalie Holmes kicked a high pass over the heads of Millersville defenders, causing Abby Groff to knock the ball into the net on a headshot, giving Bloomsburg a 1-0 lead. The Huskies won the game and brought the PSAC Championship home for the first time since 2018.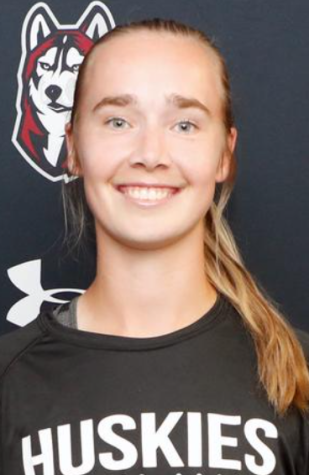 Following the game, Holmes was awarded the Tournament MVP, as she finished the week with three assists and secured the Huskies shutout defense during the tournament. Since then, Holmes has come full circle, as a first time graduate assistant coach in 2022.
She commented, "Overall I have completely enjoyed the experience so far! Obviously it has had its ups and downs like seasons always do, but being on the other side of everything is such a cool and fun experience! The approach that Coach Hanet, Coach Grubb and I have taken this season is one of togetherness. We win as a team, and we lose as a team."
This motto has carried the Huskies the length this season, with an overall 14-4-2 record. They fell short of a back-to-back PSAC Championship, with a loss to Gannon in the semifinals on Friday. Their season is not over yet, as they will play West Virginia State in the first round of the NCAA Tournament on Thursday, November 10th at 1:00 PM at West Chester University. 
BU has advanced to the NCAA Tournament every year since 2015. Holmes spoke about how the team is looking to uphold this achievement in 2022. 
"As far as achievements, obviously every year we want to go as far as we can and extend the season as long as we can, especially for our seniors who are having their last run!… We are looking to uphold this achievement by simply looking to compete at every corner and wanting to win games!" 
Some standout stars this season include Lorelei Hartzfield, Nicole Varano, Alivia Gallardo, Erin Ranegan, Paige Harris and Riley Spingler. These players were selected to the 2022 PSAC Women's Soccer All-Conference teams. 
Varano is BU's leading scorer with nine goals, six of them being game winners. Harris is tied for first on the team with five assists and has two goals on the season. As for Hartzfield, she is a freshman defender who has been vital to the Huskies back line, which has held 14 opponents scoreless, tied for most in the nation. 
Gallardo is a junior midfielder and has scored two goals this season, while also delivering on the defensive end. Ranegan has also assisted with defense, and scored a game winning goal vs. East Stroudsburg on October 26. Spingler is one of the top goalies in the nation, with 10 shutouts on the year, 
with a .910 save percentage, and .359 goals against average. 
Holmes is very close with the entire team, as she played with several of them throughout her playing career at Bloomsburg. Since becoming a coach, her relationship with the team is still very tight-knit.
"My relationship with my teammates now that I coach, is very positive. Obviously it's probably been an adjustment for them as well as myself to understand that I am their coach now, not their teammate. But, as a fifth-year last year and already starting the change from athlete to coach in the spring, I feel like that helped a lot, for myself, and for them!"
Holmes has been a key role model for the Huskies over the years. As a top defender, she helped hold opponents to a 0.57 goals against average in 2021, 13th best in DII, as well as 14 shutouts. In her four years at Bloom, she earned six all-region awards from the United Soccer Coaches and D2CCA and three All-PSAC East honors. She graduated with her undergrad degree in exercise science, and is now pursuing her master's in the same field. 
As a five year student athlete, Holmes has carried multiple skills she learned as an athlete into her coaching career.
"I help athletes who are in newer positions or in positions that I have played. I always let players know that if they have questions about anything, they are more than welcome to come and ask me and I will always do my best to help them! As a coach, our job is to help players improve and learn how to adapt and how to problem solve!"