From Broken Bones to Broken Records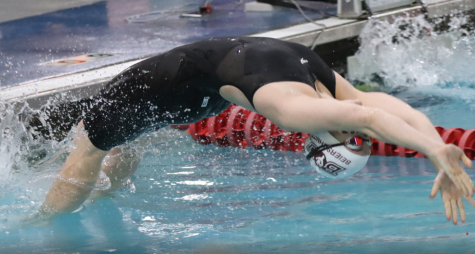 At age five, senior Grace Beierschmitt of the Bloomsburg women's swim team broke her arm. After weeks of healing, the day came for her cast to come off. Immediately following, her mom encouraged Beierschmitt to jump in the pool, since her older sister was on the swim team at the time. 
"The swim team was doing tryouts for the eight and under age group," said Beierschmitt. "So in order to make the team, all I had to do was make it one lap without stopping. I jumped right in, no hesitation, made it to the other side, and the coach turned to my mom and was like, 'I don't think we're going to have any problems with her.' 
Eighteen years later, Beierschmitt will embark on the final leg of her swimming career at the Pennsylvania State Athletic Conference on Feb. 15, and NCAA Championships in March. Her speciality strokes are Sprint Freestyle, Backstroke and Butterfly.
In the fall of 2019, the Huskies arrived at their first PSAC meet of the season vs. West Chester on the road. Head coach Stu Marvin did not hold back,  sending freshman Beierschmitt to the block. By the end of the meet, she qualified in the 50-yard freestyle, finishing in 25.84. 
Fast forward to the Bucknell Invite in November 2022, Beierschmitt broke two school records. According to Bloomsburg Sports Information, she finished the 200-yard medley relay in the 50-back in 26.42. Her record breaking day did not end there. Beierschmitt "took 10th overall and second in the B final with a time of 56.39." This surpassed alum Alex Wheatley's time by just 0.31 tenths of a second. 
The senior spoke of her love for swimming saying that she doesn't necessarily have one role model she looks up to. Rather what inspires her the most is working together as a team, forming a tight-knit bond. 
Over winter break, the mens and womens teams strengthened their  relationships in Fort Lauderdale, Florida, spending time in the warm weather while also training. Beierschmitt expressed that Coach Marvin even invited his college teammate to assist in mentoring. 
The team used the remainder of winter break to taper; which involves decreasing training and resting the body in order to swim faster, as specified by Beierschmitt. 
This season, she is a team captain alongside Courtney Hubric, Tara Kupsky and Anna Sugra. The senior humbly articulated that she doesn't use this title to gain power over others, but instead uses the role to lead by example. 
Beierschmitt has thoroughly enjoyed her Bloomsburg swim experience, and reflected on her favorite team memory. 
"Usually we have PSACs in February, but over COVID we had them in April… Getting to PSACs that year was just like, we're here, we may as well just swim… It was one of the best, fun swim meets I've ever had. It was super good energy, everyone was happy, we were wearing masks but we didn't care… getting to that moment was like, we did it, good job guys."
Beierschmitt will graduate with a degree in Communication Sciences and Disorders in May and plans to attend graduate school to receive her masters in Audiology.