Huskies Football Loses Special Teams Coordinator
Football will look to retool coaching staff with three openings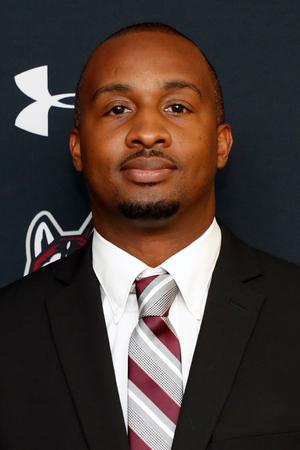 After first losing offensive coordinator Paul Johnson in January to Chowan University, the Bloomsburg football team has reportedly lost another coach. This time it is Eugene Jones IV. Jones  served as the Special Teams Coordinator, Defensive Backs coach and the Recruiting Coordinator. Jones is set to join Division I Bryant University. The position Jones will serve in for Bryant has not been announced yet. Jones announced the move in front of players during a meeting.
Jones has served on the Bloomsburg staff for two years. Before his stint with the Huskies, Jones served as the defensive coordinator at Kalamazoo College for three years. Jones also coached five seasons for PSAC school Mercyhurst University where he coached the secondary and the special teams unit.
​In the 2022 season, Jones produced elite talent in the Huskies secondary. Jones led the Huskies defensive backs Chris Monaco and Quentin Gaskill to All Pennsylvania State Athletic Conference honors. Monaco, who was a graduate student, earned First team as defensive back. Gaskill earned second team as defensive back. Gaskill also averaged 6.8 tackles per game under Jones.
As for special teams, Jones' unit had a great season there as well. Kicker Brendan McGonigle had an 80 percent field goal percentage, which ranked 14th in the country. Punter Kevin Carrigan averaged  38.2 yards per point. Also under Jones, the Huskies added five block kicks and two block punts for a touchdown. As for the kickoff return team under Jones, it averaged 22.51 yards a return.
Jones was a player coach and will be missed for the Huskies.
"He was a great guy. I could talk to him about more important things in life than football," said defensive back Aasim Muhammad "It was sad to see him go. He really made a change here at Bloomsburg. He trusted us and we always trusted him as our coach," said Muhammad.
For the upcoming 2022-23 season, the Huskies will look to add a new special teams coordinator, defensive backs coach, and recruiting coordinator.
Huskies defensive coordinator Mark Ross has been helping out with Jones' units this spring as the Huskies look for a replacement.