Swim Coach Stu Marvin Announces Retirement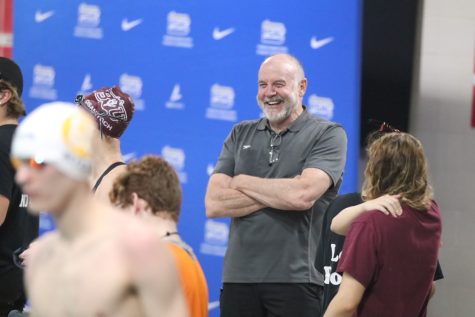 Stu Marvin, head coach of Bloomsburg University men's and women's swimming teams, announced his retirement on Thursday,  according to a press release from Bloomsburg Athletics. 
"I would like to congratulate long time Bloomsburg swimming coach Stu Marvin on his retirement following fifteen years at the helm of the BU swimming program," applauded President Dr. Bashar Hanna. "Thank you to Coach Marvin for his dedication to our students and their success. The entire BU family wishes him the best in retirement."
Marvin is a 1978 graduate from Bloomsburg and was an 11-time All-American swimmer for the Huskies. He earned six Pennsylvania State Athletic Conference titles, and is a two-time Danny Litwhiler Underclass Athlete of the Year. 
The swim alum became BU's first triple All-American award winner in both 1975 and 1977. In his senior year, he was the Robert Redman Award winner. Marvin was  the first swimmer inducted into the Bloomsburg Athletics Hall of Fame in 1990. 
 Marvin began coaching at his alma mater in 2008, and  completed his 15th season as the Huskies head coach in 2023. 
He expressed, "I want to thank former Director of Athletics, Mary Gardner, for giving me the chance to lead these programs in 2008… It's been a dream come true to do this – to coach the team that you swam for."
Under Marvin's tenure, the Huskies have produced 41 PSAC champions, 109 PSAC All-Conference awards, eight PSAC all-time records and six PSAC meet records.
In 2021, Marvin led the men to their first PSAC title in program history, and the team  finished with a .613 winning percentage during his coaching career. As for the women, they achieved a .650 winning percentage in dual meets under Marvin's guidance. 
The mens and womens teams have placed as high as 15th at the NCAA Championships, and have thirteen runner-up finishes at the PSAC Championships combined.
Women's team captain, senior Grace Beierschmitt commented on the powerful influence of Coach Stu in her swim career.  
"It has been an absolute honor to swim for a coach who is so passionate about the sport. Stu helped me fall back in love with swimming and trained me to reach goals that I never believed were achievable," said Beierschmitt. "I am forever grateful to be apart of his legacy, and I cannot thank him enough for his dedication to Bloomsburg swimming."