Addressing the rumors: Merchandise, IDs, and more
An answer to some of the questions floating around campus about the future of BU
Bloomsburg University's transition into Commonwealth University has made way for much confusion and questions about the future of BU.
The endless rumors regarding what next year will look like as the university dives into another academic year post-merger have sparked confusion and frustration among the BU community. Here is a look into rumors that have wormed their way into conversations and YikYak posts and whether they have merit.
The beloved BU bookstore has been front and center in most conversations concerning the future. Many students have become worried about whether BU merchandise will still be available in the coming semesters. Rumors of CU gear taking over the store have sparked outrage among students. The university has confirmed that CU merchandise will be made available, but has denied the rumors that they are getting rid of Bloomsburg gear entirely.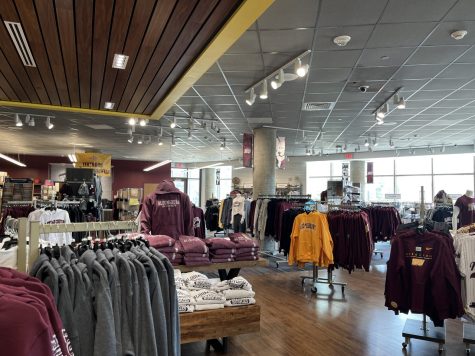 "Commonwealth University has not directed the University Store to stop making Bloomsburg University merchandise available for sale to its patrons, including current students and alumni who come to campus to visit," said Tom McGuire, the director of communications and media relations.
Rumors about the need for new IDs next semester have also caught the attention of the campus community. The cited reason has been a supposed need for students to get IDs that identify them as CU students. This rumor has been confirmed as false.
"All rumors about getting new IDs are false," said Coordinator of BU Card Center, Brian Schraeder.
Questions have also been raised recently regarding how much overlap the newly Commonwealth campuses will be exposed to. A main selling point in the integration was the expansion of resources that will be available to students regardless of what campus they belong to. Robert Dunkelberger, the university archivist whose work is located in the Harvey Andruss Library, has confirmed that the combination of resources won't result in any physical relocation or changes.
"The archives on the three campuses will not combine physically.  Each documents its own historic University and will stay where it is," said Dunkelberger.
Instead, the archives, which give students access to past research, photos, and film documenting life long ago at the university, will be combined virtually.
Rumors have also long ago surfaced about how much the integration will negatively impact life on campus. More recently, with confusion over diplomas and merchandise, many students have begun to feel that the identity of Bloomsburg is being lost. The university holds to its original promise that all three campuses will be preserved post-merger.
"We are committed to meeting the requirements of our accreditors that assure our students of the full benefits provided by Commonwealth University, and to the integration plan that respects those institutional identities and the students and alumni affiliated with them," said McGuire.