University Diplomas To Keep Campus Name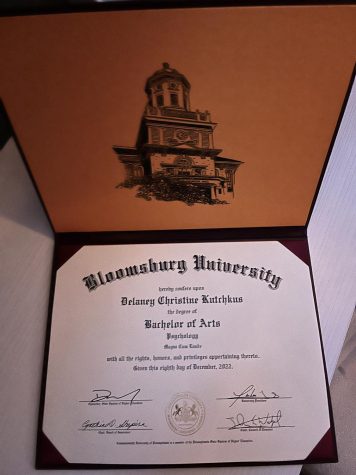 The question of whether diplomas will stick with portraying Bloomsburg University, or if they will be changed to Commonwealth University has been at the forefront of everybody's mind after the integration with Lock Haven and Mansfield Universities. 
During all of this, the University released several emails detailing the process. The emails stated what would change, what we would gain, and how the process would affect students. 
One of these emails did specify that no change would be made to our diplomas saying, "No. BU's name, colors, logo, mascot, and names on diplomas would remain". It continued to clarify that, "A new integrated name would be used for accreditation purposes only". 
Despite this, many students still have no idea what will happen with our diplomas, and with rumors going around that the University has gone back on the name changes they are more confused than ever. 
Elizabeth Arnold, the Executive Communications and Editorial Director for Lock Haven University gave a statement regarding the speculations. "The diplomas will display Bloomsburg University, Lock Haven University, or Mansfield University prominently at the top with Commonwealth University represented in the seal at the bottom" Arnold wrote.  
Students who had just recently graduated during the Fall 2022 Semester were also reached out for a comment. Delaney Kutchkus, a psychology major said, "Yep, mine said Bloomsburg. On both the outer cover of the diploma and on the diploma itself. It does have Commonwealth University on it on the bottom but it's small". Brandon Joseph, a Digital Forensics major said, "Yep, mine had Bloomsburg on it". 
Current seniors were told about how Bloomsburg would remain on diplomas. Cameron Sacco, a Finance and International Business major, is in her fifth year here at Bloomsburg University and will be graduating this Spring. 
She stated, "I am relieved that the diplomas will say Bloomsburg University as that is the University I chose to attend five years ago. I did not choose to attend Commonwealth University and would have been very upset if that was the main University name on my diploma". 
Brenna Hamann, a marketing major had this to say; "I would say I'm happy that our diplomas will say Bloomsburg University because that's the school I originally applied to and the University I was planning to graduate under so I'm glad it will still keep Bloomsburg". 
Sarah Mace, a speech pathology and audiology major said, "I feel that Bloomsburg University should stay on the diplomas. As a senior, the school that I decided to attend was Bloomsburg, not Commonwealth University, and I would prefer my diploma to show the school I chose". 
The consensus stands among students that they want their diplomas to stick with our original Bloomsburg University name. Thankfully, the university seems to feel the same and diplomas will stick with the main focus being our Bloomsburg University campus.