As the fall semester approaches, a pivotal responsibility for David A. Miller, Professor of the BU Theatre Department, lies in selecting and directing a play, shaping the artistic direction and educational experience for his students.
Miller's passion for theatre developed in childhood and continued through his academic journey, encompassing training in acting and directing at Western Washington University and professional work with Seattle Children's Theater and The Kennedy Center. He holds an MFA in Directing from Rutgers University's Mason Gross School of the Arts.
Miller serves as Resident Director for Fort Worth's Amphibian Productions and a Board Member for New York's Seven Devils New Play Foundry; he also contributed as an actor and director to the Seven Devils Playwrights Conference in McCall, Idaho, this past summer.
The plays were selected during the Plays in Bloom Residency, the new play development program, in 2022. The BU Players will be preparing for The Astronots by Mora V. Harris, where they worked with the playwright workshopping the play and creating the perfect vision for onstage. The team worked from viewing the concept as an idea letting it grow into a full-on script. 
Story continues below advertisement
Miller is not alone in the selection process, but works alongside a season committee to select each play. "The season selection committee includes theater faculty and elected student representatives from a pool of self-nominated theatre majors. During season selection we work on selecting plays, musicals, and other performance opportunities that will give students a wide variety of experiences during their time at Bloomsburg."
The Astronots is about an out of touch billionaire, Alston Garth, who takes four civilians into space with him. Each of the civilians entered a contest to take a 90-minute trip into space. It turns out that their "winning" maybe was not just luck and that the trip is much more than any of the winners bargained for when they entered the contest. 
When created the production concept, Harris was inspired by this question: "Why do billionaires take civilians into space? Is it because they can't make friends otherwise?" 
The preparation for production will begin with an auditions workshop on August 30th followed by the official auditions on September 11th. 
The collaborative team behind this process involves the direction of Dr. David A. Miller along with the stage manager (Mitch Leso), assistant stage managers (Sam Hefner and Gibby Goodenough), and the assistant director (Emily Shaffer).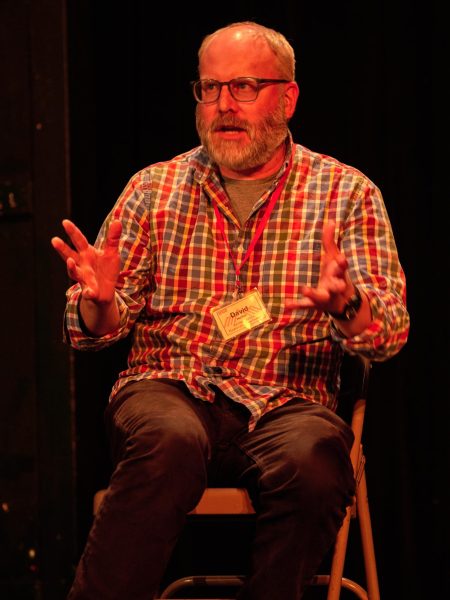 The director's pre-production work involves formulating an approach, often expressed through an approach collage comprising play lines and inspiring images, which is then shared with designers and actors to establish a production's focal point.
The stage management team oversees audition logistics, while Miller guides actors during auditions with Shaffer noting the process. The design and dramaturgy team aids Miller's character comprehension and play understanding, culminating in a collaborative casting decision.
The workshop is led by Miller and his talented colleague, Dr. Carrie Winship, who is directing the spring production, A Divine Kerfuffle. The audition workshop offers a valuable opportunity for the duo to provide new and returning students with tips for successful auditions, insights into show-specific processes, and the chance to interact, fostering understanding and addressing any inquiries.