The class of 2025 is blazing a trail for Bloomsburg University as the first cohort to venture beyond campus dorms." Following the university's recent mandate requiring students to live on campus for their first two years, these juniors are looking for off-campus housing options.
However, as they navigate this uncharted territory, many are confronted with the daunting challenges of becoming first-time renters, including dealing with questions about lease agreements, rental rates, and distinguishing a good deal from a potential rip-off. For these students, who find themselves in the uncharted waters of off-campus living, the transition is proving to be a nerve-racking experience.
Here are some suggestions and advice on how to go about finding somewhere to live off-campus from students who have gone through the process themselves:
"Ask all the questions you can when you are touring the apartment for the first time. No questions are too stupid, and it's better to ask right away about things like how you get your mail and how noisy the building is," said deaf education major and first-time renter Courtney Pedersen. "Also, make sure you know how to contact maintenance for your building, and make sure to ask the current tenants how quickly problems are usually fixed."
Story continues below advertisement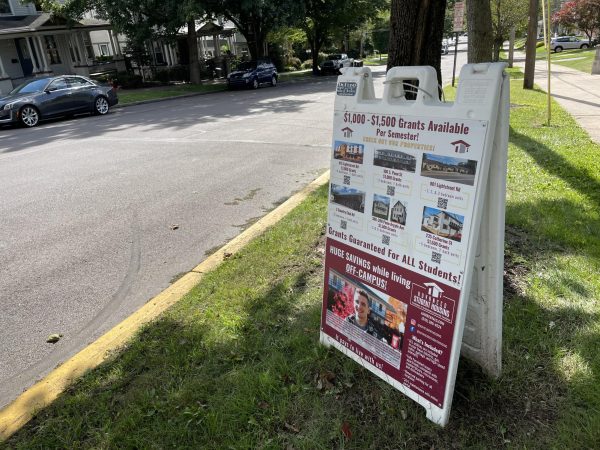 "Definitely make sure to check how thin the walls are," fellow deaf education major Jillian Weierbach urges. "The walls in a lot of these apartments are super thin, and you do not want to find out that your walls are made of paper too late." This issue came up more than once when interviewing students about complaints about their current off campus living situations.
"When I moved off-campus, the thing that was the biggest problem for me was finding people to split the housing with" commented transfer student Fayth Quinn.
"Thats all taken care of when you're living [on-campus], but when you move off-campus you are responsible for that on your own." Quinn turned to Craig's List and Facebook Marketplace to try to find roommates but does not recommend this strategy.
The excitement of living in your first apartment can be quick to wear off when students are met with the astronomical prices of rent and off-campus parking passes, missing freezer door handles upon move-in, and the inability to receive deliveries. Get ahead of these issues by making sure you find compatible roommates, preparing questions before touring apartments, and communicating with you landlord once you move in.