A road full of cars, trucks, shuttle buses, and bright orange traffic cones cover the frequented Iron Street. Traffic continues to pile up multiple times a day holding up hundreds of local students and residents. People dressed in neon yellow are continuously directing traffic, attempting to get the clusters of vehicles headed on their way.
Throughout last week into this week, gas line construction has taken over Iron Street creating many inconveniences for commuters. This construction began on October 9th and has majorly inconvenienced the downtown shuttle bus that takes off-campus students to campus.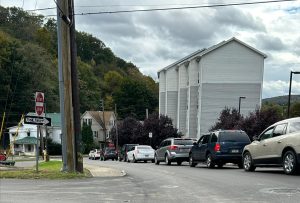 Maggie Baker, a Community Relations Coordinator of PennDOT, notified that this ongoing project is a utility project with the connection to Gregory Powell, the Senior Supervisor of Operations at UGI Utilities on the project.
Powell says, "Mill and overlay work will be completed by 10/17. Line painting is scheduled for Wednesday 10/18. One final day of small patch repair [is] scheduled for the end of next week." He continued to share that permanent pave restoration is being done to improve the road and the workload is about eleven hours each day.
Story continues below advertisement
UGI recognizes these types of projects can cause short-term inconvenience, but these infrastructure projects are designed to provide safe and reliable gas service for many years to come. However, a number of witnesses have noted being given incorrect traffic directions almost heading into oncoming traffic.  Traffic Control is provided by Area Wide Protective (AWP) while Big Rock Paving is completing the restoration work.
Powell notified that, "According to Big Rock Paving, a minor vehicle accident occurred on 10/11.  The flagging company AWP regional manager investigated and found the work zone to be set up in accordance with PennDOT specifications. UGI was not made aware of this accident.
On Monday, October 16th, the downtown shuttle bus was unable to make it to the stop around the 2:30 to 3:00 p.m. time range at the corner of Iron Street and Glenn Ave. This spot is frequented by students waiting to get to their mid-day classes. Right before the bus hold-up, there was a one-car collision on Millville Road by the steel bridge creating a line of cars and confusion down into Iron Street and Glenn Avenue.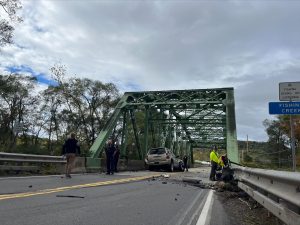 The entire gas line utility project began on June 19th according to the previous June 15th PennDOT Press Release provided by Baker. "Starting Monday, June 19, 2023, UGI Utilities, Inc. will begin to replace the gas main on Route 4009 (Millville Road) between East First Street and Kressler Avenue. Work will begin at East First Street and progress towards Kressler Avenue. Motorists can expect single-lane conditions with flagging where work is being performed. Work will be performed Mondays through Fridays during daylight hours, weather permitting."
The press release continued to share that the work on this project is expected to be completed in September of 2023, but now it is mid-October. These additional local roadways impacted by the project included Iron Street from East First Street heading north, Summit Avenue north to Millville Road, Glenn Avenue, Eyer Street, Irondale Road, and Kressler Avenue.